There come many occasions in one's life that one can hardly forget, and the wedding day is one such special occasion. It is a mesmerizing moment for the groom and the bride, and they tend to enjoy every bit of it. However, if you are the closest friend of any of the bride or the groom, it will be an exciting and joyous moment for you as well, and you would want to convey your best wedding wishes through cards or in person. You can also team up with your friends and send a group ecard.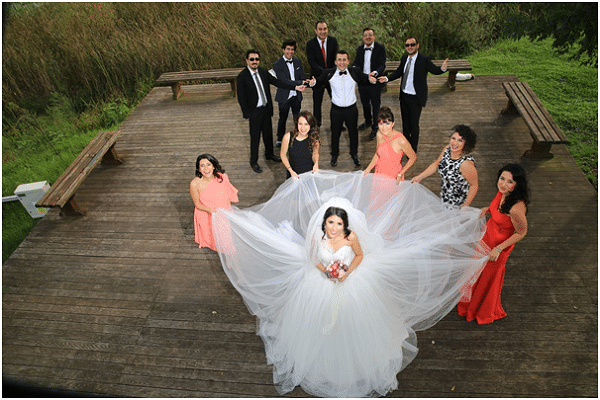 Hence, here's this article containing the 12 best happy wedding wishes you can give to your friends on their big day and make them feel special.
Here are my heartfelt best wishes on this glorious wedding ceremony of yours. Wishing that you receive an abundance of happiness and have some fantastic memories to cherish for your lifetime! Hearty congratulations on your wedding for finding yourselves the best partners you can ever get. Keep loving each other till the end of time and make this wedding a grand success. May God bless you with all the happiness in the world.
You both know how eagerly all of us have been waiting for this day. All your friends, family, and well-wishers had become impatient had not the day had arrived. Hence, on this very special day, we all have our eyes teary and our hearts filled with joy when we see you both finally tying the knot. We wish your today, tomorrow, and all other days are as special as your wedding day, and you make it the best thing in your life, making it a happy, successful marriage. We hope your wedding day will help you build the fondest memories and many more in the coming years! Keep growing and stay happy with each other.
Congratulations on your very special day. It is undoubtedly the best day of your life, and we are delighted to see you both finally exchanging the vows. We wish you all the very best for a happy and prosperous married life, and always remember that you truly deserve each other for your lifetime.
I am pleased to be present at your wedding ceremony and to see how happy you both are today. You both make a beautiful couple. I cannot express how happy I am for this soulful union-wishing you all the joy and happiness in your life. May this bond grow stronger with each passing day. Have a great conjugal life in the following years. Congratulations to one of my most favourite people on their best day.
I am so happy to say that you will write some of the best chapters of your life in the coming days. Marriage is undoubtedly one of the most beautiful experiences one witness, and I cannot wait to read your stories. Have a great wedding and a happy life ahead. Many congratulations on your marriage.
It is just amazing. You both defined what true love is all about, and I cannot stop gushing over your love story, which is now turning into a beautiful life story. You both always deserved each other's back and support, and now you have become inseparable. You truly should receive all the happiness and amazing life with each other. Congratulations and best wishes, my friends and have a very happy married life ahead.
I had known you ever since we were in high school. I could not forget how deeply you both were in love with each other. You have been a great person and an excellent friend ever since. I am sure you'll make a great partner in this marriage too. Just become the best version of yourself and witness a bright future with your lovely wife. Wishing you all the love and happiness. Here are my heartfelt wishes for your wedding. Cheers to the beautiful couple!
Wedding is just the beginning of unravelling exciting chapters of life with your wife. I wish you all the best and hope that you both keep on falling in love with each other every day from today till the end of time. All the best for your future, and make the fondest memories together.
I have hardly seen matches that seem so perfect and look so beautiful. Your pair is made in heaven, and you deserve all the happiness in your life. We are praying for your happy future ahead and lead a safe life together. Happy wedding to both of you.
I have been waiting for your wedding for so long, and I'm so overwhelmed that it is finally happening now. I have read somewhere that marriages are more like chemical reactions occurring within chemistry labs. Two elements freely interact with each other until they coalesce to form an entirely different compound together. Your match has been no less of a chemical reaction, and I cannot wait to see what compound you guys will make. Congratulations to the best people I know on earth. Stay happy and keep smiling always.
It is always believed that love gets multiplied only when it is shared. And you both have proven this true today. Both of you have become one soul today, and that was possible only because of the love you had for each other. My wedding wish for you is that you always find love in each other's hearts and keep filling yourselves with infinite joy and happiness. I convey my heartfelt congratulations to both of you on finding your cute little loving unit. Have a very happy wedding and blessed life together.
I know how fondly this date will be etched in your memories for eternity now, and I cannot be happier to have been a part of this. I am enjoying your wedding as much as you are and will not leave any opportunity to make this day better. Just enjoy your special day, and all the attention that you are getting. Always remember, your near and dear ones are always there for you, pouring in their best wishes for you. Wishing you both a very happy married life and congratulations on your big day. Stay together for the rest of your life.
Wedding wishes should come from your heart, and with this, we have tried to list the best wedding messages you can give to your friends to make their special day even more beautiful. You can make it more special by making a wedding video message for your friend using a wedding video maker. So try to make something special on his/her special day. Pour down your heart and soul while you curate these messages to make them feel the most beautiful couple and see the tears of joy in their eyes.
Marriages are special; you can make them more special with your blessings and love-filled wishes for the couple. Try a wedding video maker today and surprise the newlyweds with a wedding video message crafted with their favourite music, pictures, and theme, which is sure to leave them awestruck.