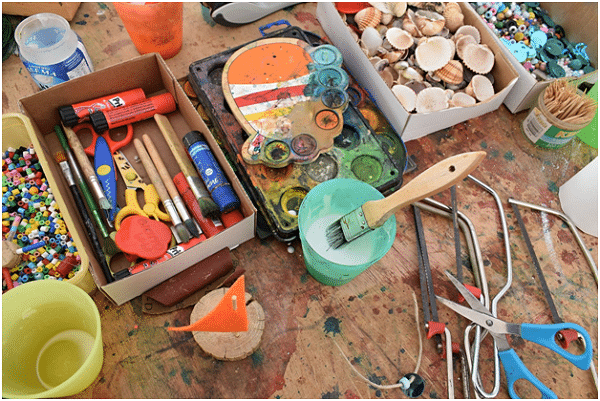 In a world of technology and stress, more people are turning to arts and crafts to get away from it all. Not only do you have lots of fun with arts and crafts, but you also have something tangible on the other side. With this in mind, here are seven of the most addictive arts and crafts in 2022!
Crocheting
It's been around for some time now, but this doesn't stop crocheting from taking over the world. With lots of online videos, affordable equipment, and not many requirements, crocheting is for everybody. You'll find lots of beginner guides around the internet depending on whether you want to make a blanket, scarf, or even your favourite cartoon characters.
Scrapbooking
Once again, this isn't exactly a new idea but it's going through a revival this year. During the pandemic, many started to make scrapbooks from old pictures and other materials. You can preserve the fondest memories that you have with loved ones through this addictive craft. Like crocheting, you have fun as well as something valuable that you can share with others afterwards.
Diamond Painting
If you like painting by numbers, you'll love the upgraded version (and one that doesn't require lots of skill). When buying from a reliable provider like Diamond Craft, you'll choose your design and receive an empty canvas. From here, you'll place the coloured drills into the corresponding spaces (based on a number/symbol system). Diamond Craft provides everything you need including a poured glue canvas, drills, AB drills (that shine and shimmer like the Northern Lights – Aurora Borealis), and equipment such as tweezers, applicators, and trays.
All you need to do is peel back the protective covering, pick up diamonds (drills) with the applicator, and place it in the right position. Eventually, you'll have a beautiful canvas to hang on the wall or gift to a loved one.
Custom Jewellery
For those who want to fill out their jewellery boxes, custom jewellery is growing more popular. What does this mean? Well, more online guides, beginner videos, and crafts are available for everybody. You can create a customised piece of jewellery using a kit whether you want a bright red necklace or a subtle bracelet.
Embroidery/Cross-Stitch
Next, embroidery and cross-stitch are more fields that have lots of history. Despite this, they have attracted attention from younger artists in recent times. Taking cross-stitch, for example, you can buy a design online and then recreate this on your own materials. Alternatively, follow an online video to create a design of your choosing. Whether you want to make a pretty winter cottage pattern or your favourite Pokémon character, there's something for everyone.
Hand Lettering
Isn't this the same as calligraphy? No, it tends to have more freedom as you create art around the lettering. Though it may look difficult at first, hand lettering is extremely fun for both left- and right-handers. Think of calligraphy but without all the rules and perfection – you're free to decorate your lettering however you wish. While some people surround words with leaves and flowers, others go for 3D effects. This is a great way to free yourself of the shackles and let your creative inner self come to life.
Other Suggestions
Instead of sticking with seven suggestions, this article is going to cheat because everybody deserves to find something that they love. Other popular arts and crafts include:
Terrazzo
Upcycling clothing
Papercraft
Vinyl printing
Pen and ink
Amigurumi
Acrylic paint pour art
Macrame
Face mask decorating