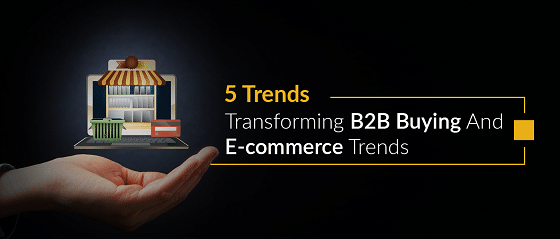 The world of retail is constantly growing with ever-expanding technological innovation. Everyone knows that in today's world, buyers expect more than ever. Buyers of all types demand an easy and convenient online shopping experience. To meet demand, minimize disruption, and create opportunities for growth, the B2B industry leaders must strive to provide a better buying experience to their customers.
Dynamics 365 Commerce, previously known as Dynamics 365 for Retail, has provided businesses with the tools needed to completely revolutionize the way they serve their customers. Now Dynamics 365 Commerce brings much of those same features and functionality to the B2B realm to help you keep pace with the customer demands as they evolve.
5 top trends transforming B2B Ecommerce:
As more B2B companies make the move to digital sales channels, here is what I believe will be the biggest B2B e-commerce trends in 2022:
Augmented Reality enhances Online experience: B2B companies often get stuck with a lot of data because data is often difficult to comprehend for an average person. Augmented Reality can be used to help this process by conveying the value of your offer in an interactive 3D visualization. Using AR for B2B sales is still a new concept, but technology does exist. Dynamics 365 presents mixed reality which can help B2B companies to showcase their products in 3D to give the consumers a real experience and you can contact any Microsoft dynamics partner for getting this service.
Personalization for individualized experience: Personalization is a growing trend in B2C retail that is now making its way to the B2B commerce space. B2B buyers are tech-savvy Millennials and buyers of all ages who are used to seeing preferred recommendations, order history for easier reordering, 24/7 chat options for prompt customer service, and more. B2B buyers expect vendors to create highly personalized experiences. Microsoft Dynamics 365 B2B provides organizations with customer insights which helps them to get a deep understanding of customers to ensure that interactions are personalized and tailored individually for every customer.
Mobile Shopping: The preferred choice: Mobile shopping allows customers to shop from anywhere, which is vital in today's world. However, if your e-commerce website cannot respond via mobile devices or web applications, you will miss many opportunities. More and more vendors have started to offer mobile wallets as a payment option as buyers prefer to complete more of the purchasing process on their mobile devices. It is also an easy way to show the consumers what they are about to purchase with video content and 3D images. Shoppers of mobile users want more convenience and the ability to pay digitally. Dynamics 365 commerce provides easier ordering capabilities, including an On Account payment method, which can be used on mobile as well.
Fraud Prevention is a critical component:
Security can be considered to be one of the most component for the success of any digital commerce company. Businesses need to protect their customer data as well as their own company from fraud or security breaches. The top challenge that the e commerce industry faces is the increasing level of online threats.
To deal with security issues, a business requires a robust system to combat fraud. Dynamics 365 commerce brings the perfect solution which can be integrated into B2B ecommerce: Microsoft Dynamics 365 Fraud Protection. This solution provides multiple tools and capabilities to decrease fraud and abuse, reduce operational expenses, and increase acceptance rates while safeguarding user accounts.
User Experience is the top priority:
In the present years, customers have come to expect certain conveniences when shopping online that improve their experiences. When shopping online, B2C consumers expect easy-to-use digital store dashboards, personalized products, package tracking, and simplified checkout and payment options. Dynamics 365 B2B insights provide a 360-degree view of customers and increase trust and loyalty with personalized experiences across all channels. Dynamics 365 B2B eCommerce provides all the insights like inventory levels, automatic shipping notifications, and streamlining customers' buying journeys.
Conclusion:
The dramatic changes in the business industry are happening due to the pandemic which spread widely throughout the world within two years. As a result, small to medium-sized retail businesses started switching from local sales to online stores. In return, the consumers also changed their purchasing habits. Therefore, thousands of businesses all over the world now try to stay afloat during these hard times by running e-commerce businesses. There are many other dynamics 365 solutions like Microsoft dynamics 365 for sales, dynamics 365 for field service & more. Microsoft Dynamics 365 commerce is the one perfect solution if you are interested in B2B e-commerce. The B2B e-commerce for Dynamics 365 Commerce can help you streamline and simplify self-service buying for your B2B customers. It provides a single integrated omnichannel solution that can meet all your organizational needs for both B2C and B2B e-commerce. It can also help your company in providing more personalized e-commerce experiences while ramping up security, privacy, fraud prevention.