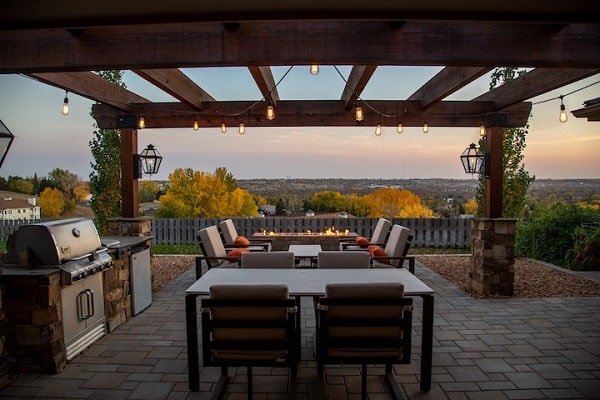 Your home is your castle, and it should be a place where you can relax and have fun. It should also be a place where you can enjoy yourself in whatever way that speaks to you. If you're a natural entertainer and you love hosting games, parties, and events at your house, make sure your home has all of the hosting amenities you need.
If it doesn't, it's time to add some new life to your home to turn it into your dream entertainment center. There are plenty of accessible and affordable projects you can do yourself. You don't need to be a contractor or spend a lot of money on home renovations. All you need is a little creativity and some basic carpentry skills.
Start with Curb Appeal
Most people want their house to look nice on the outside. It makes them feel good to know that their home is attractive and inviting from the street. And when people see a nicely maintained yard with flowers blooming, they are more likely to want to go inside and take a look around. Curb appeal is crucial because it's the first impression of your home.
To make sure your house becomes the hub for friends and family, start with the exterior of your home and yard. Consider adding lighting, a patio or deck, and landscaping that will draw people to your door or your yard. Suppose you don't have a lot of landscaping or construction experience but want to add more features to your house on a budget. In that case, there are many options like custom pergolas that are easy to assemble, offer comfort and beauty, and are sure to draw people in.
Now that the exterior of your house has been spiffed up with lights, landscaping, and paint, it's time to get working on the inside of your home!
Interior Design
If you're looking to add a little more life to your home, consider making some interior design changes. While it's always possible to hire a professional, there are plenty of things you can do yourself that won't break the bank. Many of these projects can be completed in just a few hours.
Indoor Plants
One great way to make your home more welcoming is to add some plants or flowers. Not only will they brighten up the space, but they'll also help to improve air quality. You can also use plants and flowers to create focal points in a room. Grouping them in pots or planters is an easy way to achieve this effect. Not to mention plants help with the natural release of serotonin. Start with plants if you want to immediately set the mood for your house guests.
Lighting
Another simple change you can make is swapping out your light fixtures. Light plays a huge role in energy, stress, and strain. If you want to have a successful house party, make sure the lighting is suitable for the occasion. Consider adding soft or diffused light. This will keep strain off of your guest's eyes and keep them happy and engaged for longer.
Seating Arrangements
One important addition to make your party even more enjoyable is a comfortable seating area with plenty of pillows and blankets. This way, your guests can relax and enjoy themselves without having to worry about being uncomfortable. Plus, it will give them a chance to take a break from the festivities and socialize in a more relaxed setting. To make your home the perfect place to host parties with your friends, add comfortable and spacious seating areas.
Party Preparation
Now that your home has been rebranded as the entertainment center, it's time to plan your party. It's not always easy to plan a party while juggling your daily routine, work, and other commitments. We often underestimate the amount of time it takes to prepare for a party. But with some planning and preparation, you will be able to have more fun at your next get-together. A little bit of effort can transform any gathering into an enjoyable social event.
Planning is key when hosting a party. Be sure that you have enough space not only in terms of physical rooms but also in terms of mental space so that you avoid feeling overwhelmed by the day-of preparations.
Don't forget to plan where your guests will park, what time they will arrive, and other arrangements. Once the arrangements are finished and you've designated the space in your home for drinks, snacks, food, games, etc., you can focus on getting all of the drinks, food, and snacks put together.
If you want to spruce up your home, start with the exterior. Add a deck or patio and some landscaping for an inviting front yard that will draw people in. Once the outside is looking good, it's time to make changes inside. You can add plants or flowers to brighten up spaces and release serotonin into the air quality while also providing focal points for rooms – all at low costs. To make sure guests are comfortable during parties, create seating areas with pillows and blankets to get away from the crowd if need be without being uncomfortable themselves. Lastly, plan by thinking about parking arrangements how early your guests should arrive so as not to overwhelm yourself on party day itself – these sorts of things will help ensure your next house party is a success.