If it's time to upgrade your medical software, or if you're starting a brand new practice, you might be considering cloud software. Cloud-based medical practice management software can offer a number of advantages over more traditional on-premise software so it's well worth considering.
Here are six reasons why you should consider cloud-based medical practice management software.
One of the main differences between cloud-based and traditional practice management software is that you don't need a physical on-site server with cloud software. When you opt for the cloud, all your data is hosted remotely and kept secure by your software provider. This means you can avoid the infrastructure and maintenance costs that come with having a physical server while knowing that in the event of a fire or flood, your business data is safe and still accessible. 
Increase efficiencies with streamlined workflows
Cloud-based medical practice management software is usually designed to be simple and intuitive to use, making it more efficient than a lot of older, on-premise software. When you can see all your patient history, notes, prescriptions and other information on one screen there's less clicking around, which means less time spent navigating software and more on patient care.
Flexibility is becoming increasingly in demand among medical practitioners and cloud-based platforms are accessible from any device with an internet connection. This means your practitioners can work from home, after hours, and update patient notes and information whenever they're on the road.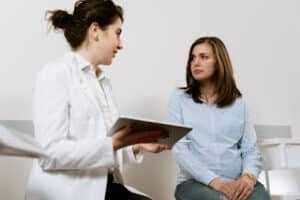 With on-premise software, you'll spend a lot of time on updates. These need to be done within a certain time frame and often involve downloading new features and installing them on each computer that's running your software. Most practices use a third-party IT provider to manage maintenance and updates, which can lead to extra costs. With cloud software, your updates are all taken care of for you. They're managed by the software provider and available straight away so you'll also have access to the latest features and functionality.
Integrate with your existing applications
As long as you're using software that's compatible with your different apps, cloud-based software can often be integrated with billing systems, online booking systems and knowledge databases. This can further streamline your workflows and allow you to offer a better patient experience. 
It might surprise you to know that cloud software is often more secure than on-premise software. This is because most cloud providers use state of the art security and have a dedicated team of experts keeping an eye out for threats and vulnerabilities around the clock. Most on-premise software requires you to be responsible for your own security and data backups and protection, which often results in less secure software. 
Cloud-based medical practice management software might not be for everyone, but it's well worth considering. The benefits of moving to the cloud include greater security, efficiency and flexibility when compared to on-premise software.