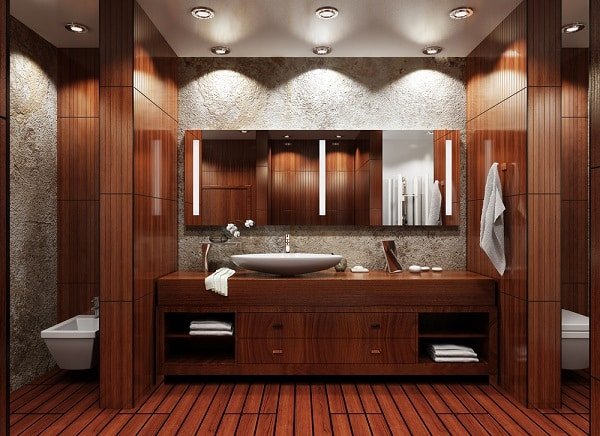 Installing wood in bathrooms used to be the ultimate taboo. After all, moisture can cause wood to rot and encourage mould growth. Not only that, fluctuating temperatures and steam can cause wood to warp and crack.
Still, if you look at any modern bathroom renovation guide, there's a good chance that you'll see wooden wall and floor coverings. By carefully choosing the right wood species and applying the proper sealants, wood can actually be ideal for any location, wet or dry.
In this blog, we'll share the dos and don'ts of using wood in your bathroom. That way, you can easily incorporate wood inside the space without having to worry about wood rot and warping.
Why use wood in your bathroom?
Using wood in your bathroom gives it an irresistible spa-like feel. Plus, it can go with any interior design style, from minimalist to traditional. Imagine soaking in a handcrafted cypress tub, walking barefoot on cosy hardwood floors, or even brushing your teeth on a bamboo sink. What's not to love?
1. Do consider wood-look tile
Incorporating wood into your bathroom design doesn't mean you have to use real wood. These days, it's easy to find porcelain, ceramic, or vinyl tiles that mimic the appearance and texture of real wood. Make sure to look for wood-look tiles with a glazed finish since these won't need to be sealed.
If you're having trouble finding the right tiles, enlist the help of a building designer. Aside from creating the technical drawings for your renovation, they can also help you pick out the best materials.
2. Don't use porous wood species
As much as possible, avoid porous wood like pine for your bathroom. On the contrary, pick species of wood that are naturally more resistant to water damage. These include:
Ipe
Maple
Cherry
Mahogany
Teak
Same with any home renovation project, always consult your supplier before purchasing materials. Tell them which part of the bathroom you're planning to use the wood for and if it can be used for such a purpose.
3. Do use treated wood
In order for wood to withstand constant water exposure, it needs to undergo extensive treatment. They can be treated with oil, reinforced with sealants, or finished with a combination of stain and sealant.
You can usually find these treated wood materials labelled as "waterproof wood" (not water-resistant) in the store.
4. Don't be shy to use reclaimed wood
Some parts of the bathroom don't get as much moisture as others, such as beams or barn doors. Feel free to use unfinished or reclaimed wood for these fixtures.
Naturally, you have to make sure that your bathroom is well-ventilated to keep moisture away from these wooden accents. Consider installing a bathroom exhaust fan or an extra window.
5. Do consider a pallet floor shower
Pallet boards built from some types of lumber can be used as flooring for showers. These include cedar and Douglas fir. Install these on top of a poured and sealed shower pan.
6. Don't be shy to use it on your ceiling or accent wall
Even if you're not yet ready to take the plunge and opt for ceramic tiles for most of your bathroom,  you can at least use wood for the ceiling. This will be a great way to soften up the space and create visual interest.
To ensure that installing wood in the ceiling doesn't cause any issues later down the road, be sure to seal the wood surface with urethane and oil. It's also advisable to cover the ceiling joists with tar paper sheets. These sheets are water-resistant, helping ensure that the moisture will stay in the room and dry naturally.
7. Do perform regular care and maintenance
Proper care and maintenance go a long way. Once you've installed your wood tiles, remember to clean and maintain them. Wipe up any spills immediately so that the moisture won't peel away the wood's protective layers. It's also important to slope the floor towards the drain so that the water doesn't collect.
It's best to avoid wood for a family bathroom where young children tend to make a splash or forget to pick up damp towels. If you really want your natural wood bathroom to stand the test of time, you have to commit to maintaining and cleaning it.
Ask your supplier about how often you should seal the bathroom with maintenance oil, as well. In most cases, you have to apply this oil once or twice a year.
Dare to use wood on your next bathroom renovation
Following the tips above, you can build a stylish, welcoming, and modern bathroom with wood finishes. Not only do these wood floor tiles and wall panels look amazing they can also add warmth and cosiness to the space