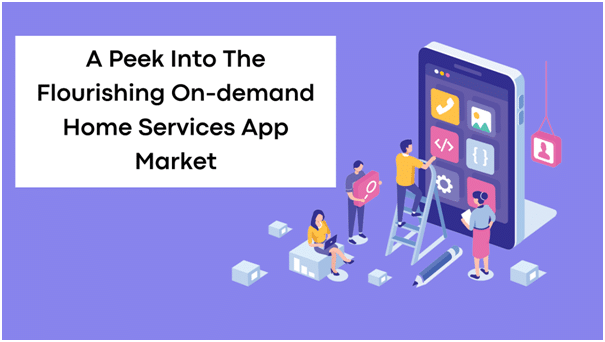 A Glance into the Flourishing Home Services App Market
Who doesn't love to live in a hygienic place either its office or home? Well, it is the need of the hour, especially when COVID is still around us. When we talk about home cleaning lots of chores come into our mind such as dishing, mopping the floors, organizing the shelves, bathroom cleaning, carpets vacuuming and the floor shining, etc. And there is no doubt it takes lots of time to do these chores. And luckily if you are a woman who follows your dream or even if your wife is a working lady then they rarely found time to do these household chores. For that reason, a few working ladies do basic household chores on weekends, such as mopping the floor and cleaning the bathroom, etc. But the time we talk about dish cleaning, sweeping the floor or other things that should be done on daily basis will not help by following the weekend pattern. And also, people usually want to give their time to their family on weekends so they usually seek a worthy solution for this. And without a doubt, we can say home service apps are surely good to go with.
Want to know more about home service mobile applications? To know, just spare a few minutes from your 24 hours and collect the details by reading this blog. In this write-up, we are going to share about the on demand home services app market. Here we are to share the reasons why the home service industry is gaining momentum, what is the future prediction, who are the top players, and more.
Why are On-demand Apps So Popular?
As the name defines itself, on demand apps aid individuals in managing their hectic and busy lives. These applications enable individuals to hire flutter app developers to manage their chores in the household which include painting, cleaning, plumbing, and moving & storage. Additionally, it also gives a source of high & constant revenue to on demand application development organizations.
By solving the 3 challenges of the industry, these apps are reshaping the entire world. What are those three challenges of the industry? Have a look…
Service Providers' Availability
There are so many subcategories in the home service category and it is crucial to know the availability of a particular service provider. In this scenario, on demand app development apps play a great role to let customers know the availability of service providers.
Service Providers' Reliability
The time you get to know the person you are hiring for the home service is not going to do a task in front of you. That time may one question come to your mind, is it ok to rely on them?
Here comes an on demand home service app that empowers you to connect merely with authorized service providers. All you need to do is pick the right one from the list of service providers. To hire the best one you can check the feedback from existing customers & other factors. All these features encourage the app users to rely upon the service providers as well as make them feel free to leave their place with the service provider while performing other tasks.
Quality of Work
Both feedback and ratings play an important role in knowing the quality of previous work. Like if you want to get the app for your business, and if you hire flutter developer without checking the review they may provide you with the best services. But if you do it after checking the ratings and feedback of previous customers then you are actually making sure to get the feature-rich app.
Similarly, if you want to get home service from an authorized one then using the home service app is a worthy step you can ever have. In this case, a reputed demand app development company's development team can help you at their best.
These were a few of the challenges that an On-demand home services app for have catered, there are a myriad of advantages it offers, out of which, we have mentioned below:-
Have a glance at the pros:
Significant Convenience
Most home services apps are one of the significant platforms where you can get home-related service options. This makes these on-demand apps convenient for an individual who is looking for different services without moving from one platform to another.
Flexibility
As these mobile apps provide a platform from multiple services on the same platform which lets the customer get the freedom to choose the time they want to get the services. At the same time, the service providers can also set a particular time or say working hours they are available to provide the services. This makes these home service apps flexible to the marketplace.
Easy process for Appointment Scheduling
These on demand home services apps offer the opportunity to fix the appointment at their convenience for both users and service providers. This way, these apps help to manage the task in which they can fulfill the task on the day with better optimal solutions.
Ease and safe Payment Option
These On-demand platforms are a bridge between the users and service providers. Not merely providing the service but also in terms of managing billing and payment transactions. Providing safe and easy payment options simply escapes the stress of the payment.
Higher Lead Generation
Here comes another pro of using on demand apps is Lead Generation. Though, the traditional method is still applicable. But to connect with a great audience you need to have an on demand home service app, that simply transforms their service offerings into a wholesome business.
With all these advantages, the online home service market has expanded the marketplace. And this is making both service providers and users turn towards the On-demand economy.
Well, these are some positive points about these apps that make the on demand home service app flourishing in the marketplace. But here comes one question arrives, which company should you choose…
Ionicfirebase
For sure, the number of a mobile app development company in Bangalore is skyrocketing exponentially. Bangalore being a hub of Information Technology professionals has so many app development companies, out of Ionicfirebase and has a wide range of expertise as well as hands-on experience, which is the main reason for their delivering successful on demand home service apps. To get a high-quality application for your next project it's worth hiring flutter developer from their well-trained, and dedicated application development team. As they go to every step of the life cycle of the app development process & focus on delivering a high-quality app at an affordable price.
Immense digital transformation is the tagline of Ionicfirebase. They have a development team that always focuses on level-shifting the entire ecosystem by delivering an exemplary end-to-end digital solution. Team Ionicfirebase comprises highly talented resources who have good enough expertise & in-depth domain authority.
Among the other app development firms, the Ionicfirebase stands high, as it strictly follows the agile model of application development. Ionicfirebase comes from the top-rated flutter mobile app development company in Bangalore that delivers scalable as well as reliable mobile apps. So, why wait? Hire flutter developer, and get a successful app at an affordable price.