Sarees in India have been a staple in every woman's wardrobe for centuries. It is closely connected to people's hearts and has great cultural and religious significance for some. This great significance is why sarees have remained popular to this day. Also, why have so many styles, colors, and saree designs cropped up over the years? Whether it is local weavers and craftsmen hand-making the sarees on handlooms or machines producing the fabrics on a large scale, sarees still evoke the same emotion they have had for centuries.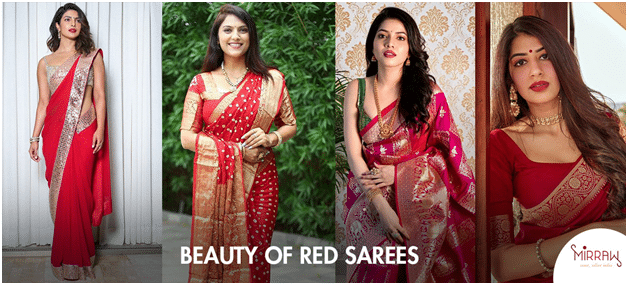 Different embroidery styles have been employed on sarees to enhance their beauty and make them look more elegant. Chikankari, zari, mirror work, aari, etc. are some common embroidery styles used to beautify sarees. Different fabrics make the expanse of options so much bigger. Silks, cotton, chiffon, georgette, khadi, linen, etc. are some of the fabrics you can buy your sarees in. Different pallu designs help you show your draping skills in various methods. Thus, one saree can create multiple outfits by draping it differently each time. Different borders are also used along the lengths of the saree to give the fall a more sophisticated look. Sarees meant to be worn to big events like weddings or parties tend to have heavy borders, while those meant for casual events have light and minimal borders. 
Significance of Red Sarees in Indian Weddings
Red is a very bright color for Indians. This is why it is chosen as the bride's color on her wedding day. From the saree to the lehenga, from the bangles to the bindi, you will find red everywhere at an Indian wedding. Red symbolizes strength and bravery for Indians. It is often connected to Goddess Durga, symbolizing strength and courage. Thus, it is a powerful symbol of femininity. It also represents prosperity and new beginnings, perfect for a bride. Red is also the universal symbol of love, commitment, and passion. It helps to enhance and complement the bride's beauty and facial features. Thus, red is ultimately the perfect color any bride can wear on her wedding day.
Red is thought to protect against the evil eye and bring wealth to the home. Other than this, the bride and groom are together during the wedding, and at this time, the brides wear colored attire to symbolize the couple's strength and passion.
SolahShringar (Sixteen Adornments)
In Hinduism, sixteen ornaments, or solahshringar, are of utmost significance. It includes several items, including bindis, bangles, henna, anklets, kajal, and lipsticks. Everything in the kit is red, from the bindi to the lipstick, as you'll see if you carefully look at it. 
Offering Red Sarees to Goddesses
Sarees have always been presented to Goddesses as offerings in the Hindu culture. The color red is one of the most beautiful colors created. It is also an auspicious color for Navratri. It signifies the beauty and fearlessness of the Goddess. Thus, red is an important religious symbol in India. It is worn at festivals and other religious events, representing prosperity, happiness, and commitment.
Hence, wearing a red saree is one of the best decisions. Whether you wear it for its religious significance or its bold look, it will surely make you more beautiful than ever.