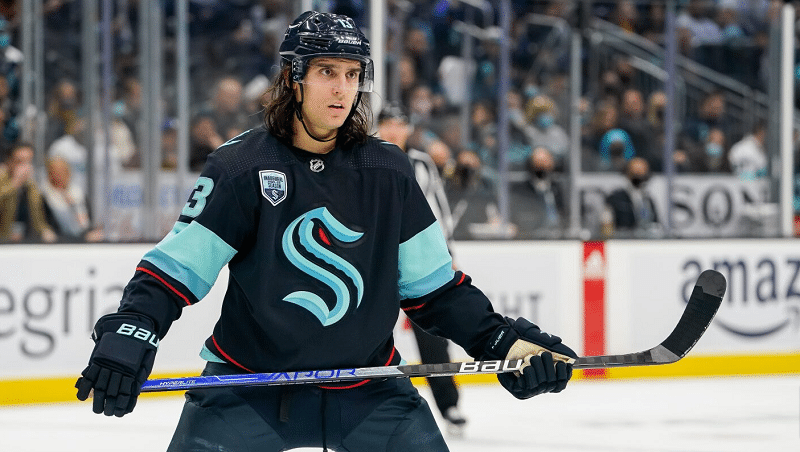 In the fast-paced world of professional hockey, injuries are an unfortunate reality. Recently, a forceful hit by Brett Howden on the Seattle Kraken's Brandon Tanev has raised concerns about player safety and left fans eagerly awaiting updates on Tanev's condition and recovery.
A Brutal Collision
During the season opener, Brandon Tanev, a prominent left winger for the Seattle Kraken, found himself on the receiving end of a high-impact hit delivered by Brett Howden of the Golden Knights. The collision left Tanev briefly incapacitated on the ice in the neutral zone, requiring assistance to leave the rink. As the game concluded, the Kraken remained tight-lipped about Tanev's condition, leaving fans and analysts pondering whether he was undergoing concussion protocol.
Uncertainty Looms
The uncertainty surrounding Tanev's injury has cast a shadow over his availability for the upcoming game against the Predators. If Tanev remains sidelined, Tye Kartye is expected to step in and fill his position on the fourth line. However, the lingering questions about Tanev's recovery and potential return to the game have raised concerns among fans and experts alike.
Who is Brandon Tanev?
Before we delve further into the injury and its implications, let's take a moment to get to know Brandon Tanev better. Born on December 31, 1991, in Toronto, Ontario, Canada, Tanev is a 31-year-old Canadian ice hockey player with a remarkable journey in the sport. His path was not without obstacles, as he and his older brother, Christopher, were cut from their minor ice hockey teams due to their small size at the age of 15. However, a growth spurt in high school reignited his passion for hockey, leading him to play junior ice hockey with the Markham Waxers and the Surrey Eagles.
Despite going undrafted by the NHL, Tanev continued to pursue his dreams, playing college ice hockey for the Providence Friars and playing a pivotal role in their 2015 NCAA Division I Men's Ice Hockey Tournament victory.
A Career Defined by Determination
Tanev's NHL career kicked off with the Winnipeg Jets, where he initially alternated between the NHL and the American Hockey League. However, he soon established himself as a reliable defensive player, earning his place on the checking line. His tenacity and defensive prowess caught the eye of the Pittsburgh Penguins, who welcomed him for the 2019–20 season. In Pittsburgh, Tanev became synonymous with effective penalty killing and contributed significantly to the team's defensive strategies.
In 2021, Tanev embarked on a new chapter with the Seattle Kraken, a team making its debut in the NHL. Despite the challenges of being an expansion team, Tanev made a strong start, scoring crucial goals in important games. Sadly, his promising season was cut short in December 2021 when he suffered an anterior cruciate ligament injury.
Throughout his career, Tanev has been celebrated for his work ethic, energy, and determination on the ice, making him a valuable player for every team he's played for.
The Financial Side of Brandon Tanev
With his successful NHL career, Brandon Tanev has accumulated a reported net worth of $5 million, placing him among the wealthier Canadian hockey players. While specific details about his salary remain undisclosed, Tanev's primary source of wealth stems from his professional ice hockey career.
Tanev's net worth also potentially benefits from endorsements and investments, further solidifying his financial standing. Although details about his assets, such as cars, are not publicly available, it's evident that Tanev has amassed considerable wealth throughout his journey in professional hockey.
The Impactful Hit
Returning to the incident that has left the hockey world in suspense, the hit by Brett Howden on Brandon Tanev during the game between the Seattle Kraken and the Vegas Golden Knights was a moment of shock and concern. The forceful hit caused Tanev to collapse on the ice, necessitating his departure from the game. Howden's hit was deemed illegal, specifically for targeting Tanev's head, resulting in a match penalty.
The on-ice officials swiftly penalized Howden with a five-minute major penalty for this dangerous hit, a decision upheld after a review of the play. Unfortunately, the Kraken were unable to capitalize on the ensuing power play opportunity.
This incident is particularly surprising given Howden's clean record in the NHL, as he had never faced supplementary discipline before this event. It serves as a stark reminder of the physical demands and risks associated with professional hockey, underscoring the critical importance of player safety.
Brandon Tanev Injury Update – FAQ
1. What is Brandon Tanev's current team in the NHL?
Brandon Tanev currently plays for the Seattle Kraken in the National Hockey League (NHL).
2. How did Tanev's hockey career begin, and what challenges did he face early on?
Tanev's hockey journey started with challenges as he and his brother were cut from their minor ice hockey teams due to their small size at the age of 15.
3. What caused Brandon Tanev's injury in the recent game, and what was the outcome?
Tanev sustained an upper body injury after a high hit from Brett Howden in the recent game. He had to leave the game, and the severity of the injury remains a concern.
4. What is Brandon Tanev's estimated net worth?
Brandon Tanev's estimated net worth is reported to be $5 million.
5. Which team did Tanev join in the 2021 NHL Expansion Draft, and what happened during his time with that team?
Tanev was selected by the Seattle Kraken in the 2021 NHL Expansion Draft. Unfortunately, his time with the Kraken's inaugural season was cut short due to an anterior cruciate ligament injury.
In conclusion, the recent injury to Brandon Tanev is a stark reminder of the physical risks inherent in professional hockey. As fans and players alike await updates on his condition, one thing remains clear: the importance of prioritizing player safety in the sport.