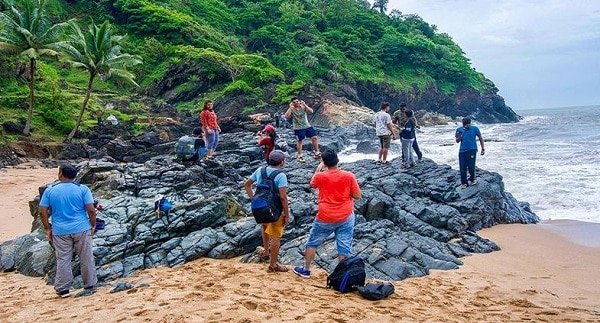 When someone says "Gokarna trek," a mountain with a nice snow-covered peak in the distance and a setting sun to complete the scene almost always comes to mind. Gokarna Beach Trek surpasses this creative capacity to produce something that is significantly more amazing and breath-taking than a typical mountain trek.
From Honnavar, which is about 50 kilometers from Gokarna, we began our day. Our goal was to arrive at our accommodation in Gokarna by noon, eat lunch, and then begin the trek. We arrived well ahead of schedule. The roads were in good condition and the route was fairly scenic. We encountered a variety of landscapes after arriving there, and I just couldn't help but take some photos to document the beauty of this location.
Day 2:  Gokarna
We started our trek after lunch. We stayed by the beach, which was in Gokarna. The majority of blogs listed the route for the Gokarna trek as Kudle -> Om -> Half Moon -> Paradise.
In an effort to learn more, we started from Gokarna beach itself rather than Kudle. However, this additional section rewarded us with breathtaking clifftop views of the beach. We left Gokarna Beach and traveled through Gokarna Beach to get to Kudle. The view from this temple marked the beginning of a flurry of breathtaking vistas.The first of these was a tiny green area where you could sit and take in the beach views.
After staying there for five to ten minutes, we moved on to Kudle. From here, we had to ascend the stairs leading up a hill to the left of the temple. You can get to Kudle beach by following a clearly marked trail. You can access this trail from the mountain's backside. Because of the adrenaline rush, we left the trail and headed straight up the hill. I had never seen the shore from such a high vantage point before. We stood there for ten to fifteen minutes taking in the wonder of nature before moving on.
We once more came across the cliff view of the shore after continuing our journey for another km. This time, it was even more stunning due to the cliff's division into two sections by a steep path that descended directly to the water's edge. This portion of the journey appeared to be a green portal leading to the Earth's interior. Everyone in our group rushed to the location where a small portion of the cliff was further out to take in the stunning seashore and to have their photos taken there.
After that, we continued without stopping toward Kudle Beach. On the way, we ran into some locals who said that while the Kudle to Om trek isn't particularly scenic, the Om to Half Moon trek is one you won't want to miss. Following their advice, we arrived in Kudle quickly and took a ride to Om beach rather than walking the entire distance. The sun setting was the impetus for this action.
We started strolling along the beach in the direction of Half Moon after arriving at Om. Half Moon Beach was closed to visitors due to the monsoons, and there was no shack open on the shore. We were unaffected by this, so we carried on along Om Beach in the direction of Half Moon. There is a small path that leads into the jungle after crossing Om. We initially believed we were lost and had come in the wrong direction, but after being in the jungle for about 15 minutes, we eventually emerged and saw sights that left us standing like white walkers. The beauty of this mountain and sea combination astounded us.
As we approached the end of that lovely trail, we walked steadily and slowly. On one side of this breathtaking stretch, the sea, and on the other, a steep mountain. A carpet of grass that is green covers both of these. We returned to the stretch of amazing views after realizing a short distance later that the path was blocked by too much vegetation. We stayed there until dusk, trying to capture with our eyes every detail that the camera was unable to record. Regarding the best trails I have encountered while traveling, this 100-meter section comes in first place.
We returned to Om beach after taking in the views, where we enjoyed a delicious dinner at the Om beach cafe. It's a pretty well-known cafe in Gokarna, and the food is excellent there as well. We also sampled some of their specials, and we were very pleased with everything they had to offer.
We went to bed after dinner at our accommodation close to Gokarna Beach to get ready for the trip back to Bangalore the following day. Comparing a scene to how you feel while it's happening in front of you is very different. We prepared our belongings and left for Bangalore with the lovely memories imprinted firmly in our minds.
How to get there
Mangalore is 238 km away from Gokarna, and Bengaluru is 483 km away. Along the Karwar coast by the Arabian Sea, it is situated between the Gangavali and Agnashini rivers.
Although there are buses that go to Gokarna, I would recommend driving there instead because the roads are very picturesque.
In Gokarna, accommodations are available for as little as 2,000 per night. The accommodations are primarily on the beach and provide lovely views throughout the day.
Things to bring:
Sandals are appropriate for the beach trek. Even though it's a long journey, there may be times when you want to dip your toes in the water a little.
Bottles of water. Even though there are plenty of shacks where you can purchase water bottles, it's still a good idea to bring your own.
Power bank and extra batteries for your camera.