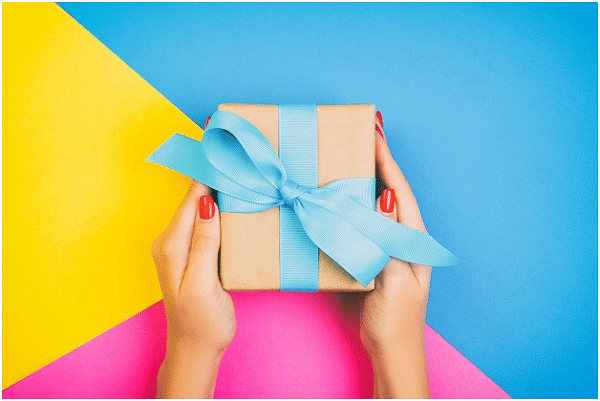 The holidays may be over, but that doesn't mean that the gift-giving season is. As a matter of fact, sending business gifts before or after the holidays is a great way to make your presents stand out from the rest and leave a lasting impression. It's one of the oldest tricks in Santa's book.  Speaking of Santa, do you have your own naughty and nice list of clients and employees? Cut the naughty bunch some slack, after all, it's been a tough year… or two. You get a gift, and you get a gift, everyone gets a gift! *insert Oprah mic scream meme here*
When it comes to corporate gifts, usually the first things that pop to mind are branded pens, mugs and whatnots. Although everyone loves a freebie, even these small bits and bobs, those aren't the kind of items that'll keep your company on top of mind throughout the whole year. If you want to win in the business gift-giving game, you need to step it up a notch. The three magical words that'll open a whole new world of ideas are edible corporate gifts. They don't say that love comes through the stomach for nothing.
What Makes a Good Corporate Gift?
Contrary to popular belief, good corporate presents don't come at steep price points. You can buy masterly crafted gourmet corporate gifts for under $50 and show your appreciation without breaking the bank. After all, same as with regular gifts, it's the thought that counts. But don't be fooled by the affordable price, some of these creations can literally pass as art. From artfully presented chocolate bouquets to gorgeously arranged sweet hampers, there are truly impressive gourmet food gifts guaranteed to blow your mind. 
To ensure that your choice sends the right message, it's best to opt for a personalised food gift. Nowadays, some companies offer the option to customise orders online in a few easy clicks. This will only take a minute of your time and yet the extra effort will be evident.
Another important thing to consider is, of course, branding. Your business gifts should put your brand front and centre for your team and clients. Why? Because it'll serve as a reminder of your thoughtful gesture, especially if there's a keepsake item included. If you're presenting a box of treats to be enjoyed right there at the moment, you can add a custom ribbon, sticker or better yet, a handwritten greeting card.
Why Are Corporate Gifts Important?
Wondering what's in it for you? Well, corporate gifts are a great way to show appreciation to a devoted team after a successful year or project completion. Even if there isn't a special reason or occasion these little acts of kindness can further motivate your employees and even attract new talent once the hashtag #bestjobever is up on the Gram. Moreover, corporate gifts can help you build and establish strong business relationships with clients and customers.
Choosing the Right Gift for the Recipient
The most important thing when choosing gourmet corporate gifts is to know a thing or two about the recipient. What good is a doughnut hamper to someone who made a commitment to keto as part of their new year's resolution?  That's why it's better to do a little research first and make an informed choice to ensure you choose the perfect food hamper. Otherwise, you're at risk to come off as ignorant and even defying the whole purpose of corporate gift-giving.
Fret not, edible business gifts aren't reserved for chocolates, candy and doughnuts only. There are healthier alternatives such as fruit bouquets, low-carb and even sugar-free arrangements. And what if your giftee isn't the snackish type at all? Well, they surely won't say no to a coffee or tea box filled with exciting aromas and flavours.
Pro Tip: Next time you're attending a business dinner with clients or sharing a meal with your team, try to remember their drink or dessert of choice. That gives you all the info you need to pick a gourmet gift your recipient will love.
Thoughtful Ideas to Get You Inspired
Have something to celebrate? Nothing says congratulations or a job well done as a champagne hamper. You can opt for an exquisite bottle of bubbly paired with some delicious treats for a complete experience or better yet, a champagne tasting hamper. You know how they say, the more the merrier.
Buried under piles and piles of work? A coffee and chocolate hamper is a wonderful way to help your team stay afloat. Just imagine a giant, colourful box filled with all kinds of treats arriving at the office on a dull Monday morning. An instant mood-booster.
Cash rules everything around you, right? A Money Tree hamper filled with rich chocolate treats sends a meaningful message. Living plants such as this one are such great gifts. They don't need special care to thrive and will look good on any desk for years to come. 
Does your giftee have no green thumb whatsoever? You can opt for a chocolate bouquet instead. These gorgeous creations come in various shapes and sizes and you can even have your say in what goes into the blooms. Belgian chocolate stars, Lindor balls or strawberries, your options are limitless. 
Although this doesn't even begin to cover all the corporate gift options out there, it's enough to get your creative juices flowing. With that being said, it's time to do some post-Christmas shopping and uplift the spirits for the year that follows.