A picture can only speak but a video can narrate the whole story.
Videos are an effective way of connecting with a customer. 86% of businesses promote their products through video marketing. Using videos in your marketing strategy, you can not only spread your content further but convey it in a way that the audience feels moved.
But using video marketing effectively is a considerable step entirely. Therefore, it is essential to have proper strategies to get immediate ROI. Fortunately, there are many ways you can get your video content out to the world and your audience—the best of them being social media. It is no surprise that most of your audience uses social media daily, so what better way to reach them if not this?
How Video Marketing Generates ROI?
Since the evolution of digitalization, videos have become essential in businesses' marketing strategies. 78% of internet users view online videos every week, while 55% watch online videos daily. The numbers show that videos have incorporated themselves as one of the most extensive promotional tools.
Video marketing can be extremely helpful in generating ROI, leads, and driving conversions. In addition, video marketing through social media enables you to reach your audience in unique and innovative ways.
You can create different types of videos to promote your business. Have you seen videos on social media where clients provide feedback about a company? Businesses are using such kinds of testimonial videos to build trust among potential customers.
Simultaneously, you can use explainer videos to provide a detailed, unique, and innovative explanation about your product or service to the customer.
Seven Proven Social media video strategies to get immediate ROI
1.    Plan ahead
Regularly, advertisers depend significantly on the marketing tool while overlooking how the instruments are only a method for accomplishing objectives. Without a strong comprehension of your marketing purposes, even an incredible video advertising strategy can't allow you to progress.
That makes planning your objectives the essential initial step before delivering video advertising. Then, assuming that you don't know where to begin, you can look at the marketing funnel for your reference.
The marketing funnel has 4 phases.
– Awareness: Create content that explains your product and services.
– Interest: Showcase why customers need your product to generate interest.
– Conversion: Specify reasons to buy 'your' product rather than your competitors'.
– Delight: Ensure that your customers stay and buy from you again.
2.    Identify and understand your audience-
Before you create any content, you need to define your audience. At the point when you comprehend the "who" component, you save your time from committing errors. If you focus on explicit viewers, your content will be more deliverable than the alternative way round. Nonetheless, if the video reaches a far-fetched crowd who isn't intended to get it, you can't anticipate any transformation.
That is why it's imperative to set the significant crowd from the earliest starting point. Then, you can address the right crowd by making a purchaser persona. This part will decide meaningful data like demography, clients' social media timetables, and their social media practices.
If you can quantify these things effectively, then, you can promote your video to snare watchers' consideration. Additionally, decide which social media platform you will distribute your marketing video to.
Every platform has a distinct crowd; for example, the content that works on Facebook won't work on Instagram, etc. So, conduct in-depth research on your ideal audiences on an alternate social media platform to guarantee your mission's prosperity.
3.    Win your audience in the first 10 seconds
As the human ability to focus is limited daily, advertisers need to get their video perceived rapidly. Ten seconds. That is the only time you get your audience hooked to your content. You need to stand out enough to be noticed.
You can carry out specific strategies to get your viewers hooked quickly and further develop your video marketing execution, for example,
Utilize an educational title and thumbnails.
Remember an exciting inquiry for the start.
Make an applicable poll for the watchers.
More individuals will be persuaded to wait until the video closes when you prevail regarding raising the tail-teasing components for your video content. That is why it's indispensable to make your initial 10-second noteworthy enough for the crowd to invest their energy watching your content.
4. Choose the optimal length for your video
Social media video length varies depending on the type of product or service being promoted. For example, an explainer video for a new app will likely be shorter than a video for a new car. When deciding how long explainer videos should be, the sweet spot is between one and two minutes. This is enough time to convey information about the product without becoming overly repetitive or boring. However, there are some exceptions to this rule. For example, if you're promoting a complex product like a new software program, you may need to create a longer video that goes into more detail. On the other hand, if you're promoting a simple product that doesn't require much explanation, a shorter video may be all that's needed.
5.    Never forget about SEO
With billions of searches performed every minute on social media platforms, the chance of your video getting clicked on becomes feeble. Therefore, to rank higher on SERPs and increase your content visibility on social media, you must incorporate SEO in your content.
You can optimize your video content permeability by embedding applicable catchphrases on the title, adding keywords, and utilizing hashtags. In addition, individuals can undoubtedly observe your video when they enter explicit keywords on Google.
Since Google claims YouTube, you should distribute your marketing videos on that stage. The explanation is that Google regularly puts video list items on the top page that connects directly to YouTube. So when you have the video on YouTube, you have conquered the two universes as individuals utilize the two stages to play out any pursuit.
6.    Show, not tell with the help Explainer Videos–
Explainer videos are becoming excessively popular these days. With the help of explainer videos, brands can showcase who they are, what they do, and how they do it, instead of just telling it to the audience.
Nissan | Animated Explainer Video by MotionGility | info@motiongility.com
Explainer videos services at Kasra Design Studio give the audience insight into the company and its product. So, in a way, explainer videos make it easier for brands to connect with their customers. You can create various types of explainer videos, namely-
About us explainer videos
Product/service explainer videos
Whiteboard explainer
If a customer is having trouble with the working of a product, they can check the product explainer video. If they wish to know more about the company, they can check out the about us explainer video.
7. Testimonial video marketing
Testimonial videos enable brands to build trust with their audience. Every marketer knows that converting leads into customers is a long path. Most of the time, people who visit your website leave almost immediately, increasing the bounce rate. Which, unfortunately, affects your ROI.
Sales Studio- Testimonial Video
You can use testimonial videos on your social media pages and website to ensure high ROI. Audiences prefer buying the products/services of brands when they see and hear positive reviews from other customers.
8. Measure video analytics
To wrap things up,  consistently check your video marketing measurements just after the deal closes. Measuring video analytics enables you to comprehend whether your video marketing strategy works out. But, again, this will be a boundary for the accompanying effort.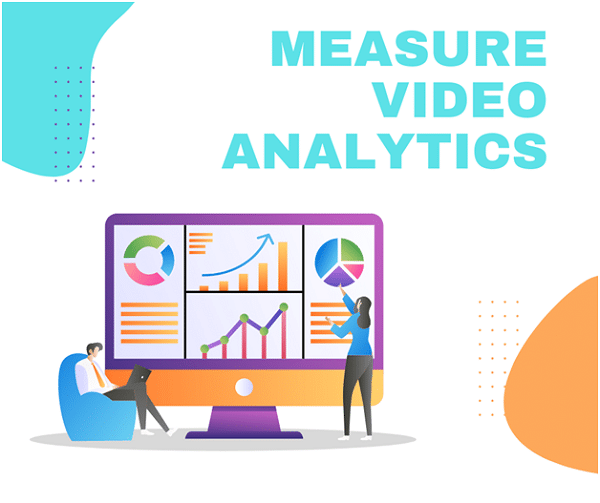 Some critical measurements that you can focus on to see how well your advertising recordings are performing are:
Quantities of viewers
Video likes and offers
The span of video observed
You can utilize a similar strategy from these examinations or further develop it with some expansion. The bits of knowledge will inform you whether your video advertising addresses your designated crowd's issues. Any other way, you can generally improve to accomplish your objectives.
Wrapping Up!
As video marketing evolves along with digitalization, businesses must also develop their marketing strategies. Video marketing on Social media is the most efficient way to get immediate ROI. You can utilize the strategies mentioned above to see positive changes in your leads, conversions, and ROI.
Author Bio :
Komal Kokate is the Co-Founder and CEO of MotionGility, an Explainer Video Company. With a keen eye for creativity, she is an expert in video marketing. While delivering high results to clients, she loves exploring the market and the latest marketing trends in the B2B industry. Connect with her on Facebook and LinkedIn.