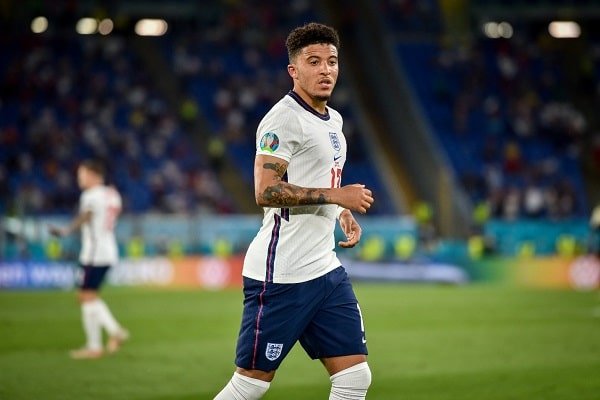 Jadon Sancho's move to Manchester United was the subject of much discussion, as one of England's brightest stars returned to the Premier League. Sancho's form at Borussia Dortmund was sparkling, with the young attacker lighting up the Bundesliga for several seasons.
In the 2018-19 season, Sancho scored 12 and created 14 goals. Still only 19, his 2019-20 season was even better. With 33 goals and assists in 32 matches, Sancho either scored or assisted at least once per game. Sancho has looked, at times, a guaranteed superstar, and likely to be the best England player of the next generation. Whenever he's on the pitch, his team's odds on sites like Betdaq tumble.
Sancho made his England debut in 2018, aged just 17, and he quickly found himself featuring regularly. He made eight appearances for England in 2019, and seven more in 2020. That year also saw his last goal in an England shirt, coming in a friendly against Ireland. Since then, Sancho has featured infrequently in Southgate's team.
Harry Kane has been joined up front by Raheem Sterling on one flank, with Bukayo Saka, Phil Foden, and Mason Mount all taking supporting roles in the attack at times. To an extent, this is down to Southgate's tactical setup. With his system largely looking to get the most out of the Kane and Sterling partnership, the third attacker in England's system spends a lot of time working hard off the ball, alternating between pressing and finding their space in the off-ball shape, while also having the athletic profile to burst forward when England have the ball, re-joining the attack.
This isn't the kind of role that best suits Sancho, who is more effective in a ball-dominant team, where he can spend more time looking to make things happen in the final third. However, what has really hurt Sancho's chances of getting into Gareth Southgate's team is his club form. Manchester United spent much of the 2021-22 season as a complete mess. After the team was reshaped to accommodate Cristiano Ronaldo, all of United's attackers had significantly worse campaigns than they did the previous season, and it's fair to assume that Sancho is struggling for the same reason.
In truth, if Sancho was playing for Manchester City or Liverpool, he would almost certainly feature more regularly in this England team, perhaps as an alternative for Raheem Sterling, but that position in the squad seems to have been taken by Jack Grealish. With Jarrod Bowen joining the ranks of potential England attackers, Sancho has to be concerned that his England career is going the same way as that of his United teammate, Marcus Rashford.
Rashford is a couple of years Sancho's senior, and was seen as a future England centre forward when he broke into the team in 2016. He made nine appearances for England in 2017, and 16 in 2018, but since then his club form has fallen away, and his England involvement has faltered in turn.
Like Rashford, Sancho has been playing for a football club that doesn't know how to get the best out of him. To get his career back on track, Sancho will be hoping that Erik ten Hag has a plan for how to use the England man. A ticket to Qatar 2022 seems unlikely for Sancho, unless he really explodes in the opening months of the season, but if the Man United winger is to have an England future, he will need to find his form at club level first.