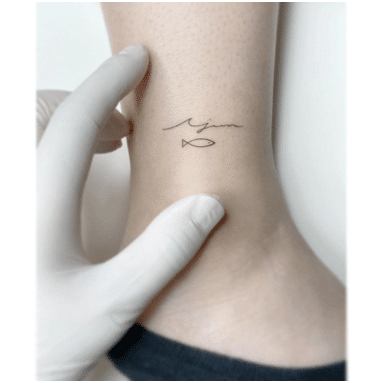 Like people have different tastes for fashion, men also have different preferences for tattoos. While some fancy big tattoos are drawn to fill the back or chest, others prefer simple tattoos on the forearm, fingers, ankle, or neck.
Different tattoos have different meanings, and people choose the tattoos to draw depending on their personality. If you prefer simple lines in black ink, go for that. Also, pick the perfect location you want your tattoo to be drawn. This will depend on how much you want it to be seen. Check out for some simple tattoos ideas to try.
1. Forearm Tattoos
Small and straightforward tattoo designs best suit the forearm. You can choose to have a few words, a short sentence, or a name tattooed on your forearm. Your artist can shape the letters differently to add some design and make the tattoo unique and more classic.
2. Hand Tattoo
The hand is a small part of the body, and it is the best place to have small, classic, but simple tattoos drawn. You can try some words on the hand, outlined in black ink. According to Glaminati, you can also have a short sentence of your mantra drawn on the hand so that you can see it daily and remember.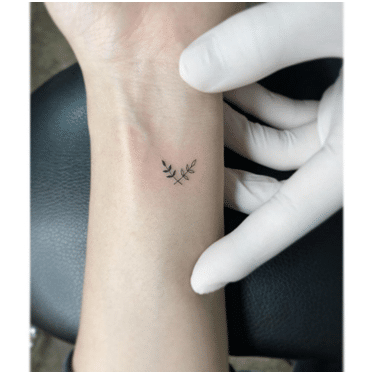 3. Tattoo On The Finger
If it is your first time having a tattoo and you want it very small and simple, have it drawn on your finger—there are many finger tattoo ideas, including flowers or letters to symbolize your beliefs. Also, if you want it to be semi-private, you can draw the tattoo on the inner side of the finger.
4. Ankle Tattoo
The trending trousers don't cover the ankle. Your favorite jeans will leave your small tattoo in the light for people to see. These simple and classic designs suit men who want something small and unique. Ask your artist for a small flower, arrows, or one-word sentence.
5. Chest Tattoos
You don't have to wear a full lion face tattoo on your chest if that is not who you are. There are many small tattoo ideas for the chest for people who want semi-private simple tattoos—a simple piece of art like a name of a loved one or a shape.
6. Shoulder Tattoo
Small shoulder simple tattoos look good and can be personalized to fit your character perfectly. Ask your artist for a minimalist design of a piece of art or a geometric pattern. You can also write a short quote and choose the shape of the words to make it more stunning.
7. Simple Rose Tattoos
Roses are primarily associated with women, but they are slowly trending among men. They symbolize the beauty and pain of life. You will enjoy the different designs available for rose tattoos. You can also add color to make the tattoo pop more.
8. Butterfly Tattoo
Butterflies are small, and you can have them drawn on the neck, hand, wrist, or ankle. You can also have the tattoo drawn on your chest and back. These simple tattoos look good and are more subtle. Butterfly tattoos can be rocked by both men and women and this is not a women tattoo as most people assume.
9. Cross Tattoo
Cross tattoos have different meanings, with one of them being a religion. You can have it drawn on the wrist or at the back of your arm to remind you of your faith and commitment to lead a Christian life. The tattoo is simple, and the artist primarily uses black ink.
10. Dragon Tattoo
Are you fierce, powerful, and looking for a tattoo to reflect that? A dragon tattoo can describe your personality perfectly. Bold and fierce men mostly wear these simple tattoos. Although most men draw giant dragons on their chest and back, you can have a smaller version of the full-chest dragon on your arm and wrist.
11. Mountain Tattoos
You can get a mountain tattoo if you like nature and the wilderness. The piece of art is also a perfect reminder of the hardships you have overcome and the consistency you want to have in your life. Mountains have different shapes that you can choose from. Some have sharp tops, others are flat, and others are curved.