Nothing can feel pleasing than relaxing at home after a hectic day, especially when you can relax by soaking in the tub. You can forget all tensions and problems for some time by enjoying scented candles, aromatic oils, and light music.
You can achieve this relaxation level even in a small bathroom. You just have to create a spa-like atmosphere in the bathing area smartly. So, you can transform it into a personal oasis or make some changes to achieve a welcoming look.
The decision is entirely yours. However, here are simple tips to follow for turning a bathroom into a home spa:
Remove Clutter
If your bathroom looks cluttered and messy with makeup and hygiene products, remove the mess by storing the items properly. For example, things you don't use daily, keep under the sink or in storage cabinets.
Make sure to place the bathroom essentials in reach and tuck away everything else neatly. It will help you to maintain a calm and relaxing atmosphere. In addition, neatly stack all towels on open shelves.
It will give an organized look to a bathroom rather than hanging towels on the hooks. This minor change will provide a modish appeal without spending money.
Add an Artwork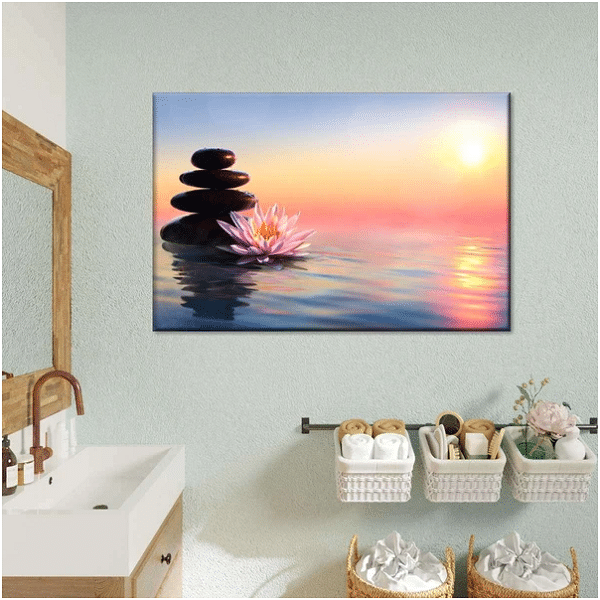 ElephantStock
The art pieces transform a bedroom or living room look; similarly, it makes the bathroom decor more dynamic. So, integrate spa wall prints to decorate the bathroom or create a gallery wall to bring interest in the interiors.
Moreover, it makes the bathroom look complete and inviting. You can add art pieces related to nature, beauty products, or some quotes related to life. Hang whatever keeps you calm and relaxed.
Aromatherapy Oils
ElephantStock
Use some aromatherapy oils such as hemp seed, strawberry, lavender, eucalyptus, rose, and many others. They will help you to scent up the bathroom atmosphere. It would be good to use a diffuser.
Add some drops of fragrance you like to it. It will automatically make a fantastic ambiance and help you to feel calm and relaxed.
Try Natural Stone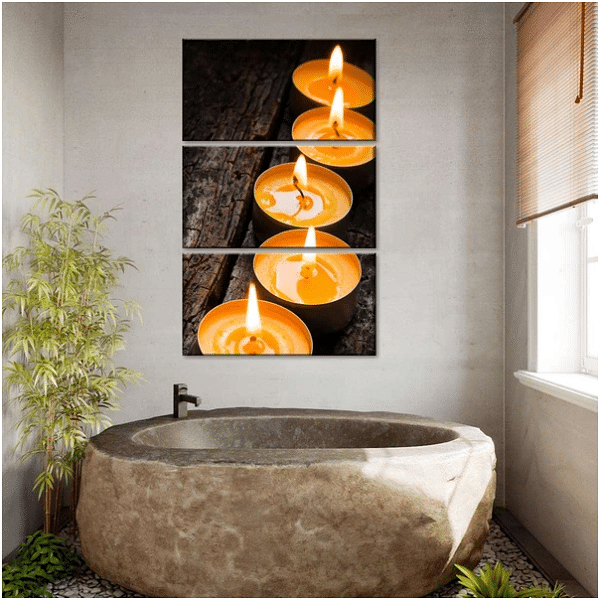 ElephantStock
Natural rock can help you to feel relaxed, just like you do at the spa. In addition, some stones have healing features, so use them in the home spa.
Once you give the touch of nature and its elements in the bathroom, it will instantly add a luxury-spa-like feel. Moreover, it will help you to make the bathroom look colorful. Of course, you can use natural rock as being neutral.
Install a stunning slab; it comes in rose, earthy, dark gray, or white color. This element can give a luxurious and spa-like feel to the simple bathroom.
Create Storage Units
Sometimes, you find it troublesome to store the toiletries and other necessities in a bathroom. So, to avoid this problem, get creative and add an extra storage unit. Keeping the look of a professional spa in mind, organize all products.
It would be great to use glass jars to store cotton balls at the countertop and add a wooden basket to keep hand towels. In addition, install a tray on the side of the toilet holding hand soap or other products.
Add Scented Candles
Every spa is incomplete without candles. In other words, they are an important part of enriching your spa experience. Although regular candles will do, it is better to light up scented candles to experience better and have a good atmosphere.
Moreover, they will soothe you to a nirvana state. So, place them on shelves and avoid additional embellishments. If you place candles of different sizes or shapes, it will create the best effect.
You can also place candles on glass or wooden bowls and make them float in water to create a beautiful impact. In addition, they will give a relaxing vibe as the professional spa.
Paint with Refreshing Shades
Sometimes, everything white in the bathroom looks dull and clinical. So, add a pop of color and create an authentic spa experience. Use natural colors like brown, blue, grey, or green to give a bathroom an organic look.
It will also help you soothe up after a hectic day.
Bonus Tips
Add heated flooring features to transform an ordinary bathroom into a spa. Nothing can feel as good as stepping out of the tub onto relaxing and warm tiles.
Also, add greenery as there are always plenty of indoor plants in the spas. Moreover, there is a scientific reason, i.e., due to the oxygen improving properties of plants, air will get purified and fresh.
So, bringing nature into the bathroom is a crucial element.