Thinking of getting yourself a new classic timepiece? If you answer yes, here are a few trends and styles to make your shopping experience easier as we reveal the sleek and minimal silhouettes, retro powerhouses and splashes of colour in classic watches for women.
With the wide range of classic watches for ladies available in online and offline stores, selecting the ideal timepiece can often be tricky. After all, as the age-old saying goes – watches mean so much more than simply telling time. Watches are one of the few accessories you can also pass down to the next generations as a treasured family heirloom.
Whether you are looking for a collectable as a watch aficionado or seeking to create a new style statement, you need to understand the buying guide to the classic watches for women. Check out these styles and types that are important to consider when you are purchasing your next watch:
Watch Display Type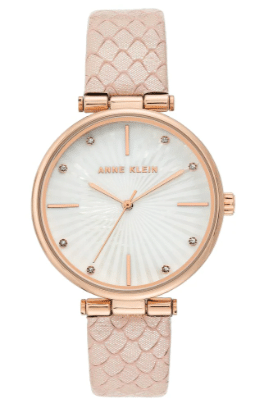 When buying classic watches for women, you have to consider the accessibility, which means the watch's display. Considering the decades of watchmaking and buying persona of consumers, the top two most sought-after displays are the Analog and Digital watch types.
While the analog format with hands on the dial, including the hour hand, the minute hand and the second hand, serve as the most common display for watches, digital watches display time electronically on an LCD screen. Although digital watches have numerous features, their analog counterpart offers more traditional and elegantly designed classic watches for women. It entirely depends on an individual's lifestyle, as an analog watch can be expensive compared to digital timepieces.
Watch Movement Mechanism
Once you have decided on the type of watch, the next feature to consider is the type of watch movement you want to have in your next wristwatch. Traditionally, the watch movement is classified into two categories – quartz and mechanical.
Like analog watch type, the quartz movement is also one of the most common types of watch movement used and is popular for its timekeeping precision and accuracy. On the other hand, mechanical watches have a rotor connected to the watch interior, which determines the movement and is powered by mechanical parts. They are either automatic, where the rotor moves based on your wrist movements or self-winding hand-wound type. Classic quartz watches for women are practical, while mechanical timepieces are more expensive, although their motion is smoother compared to their quartz counterparts.
Power Source – Solar or Quartz or Smartwatch?
When buying classic watches for women, you also need to look into the energy source that drives the functionality of the watch.
While solar watches are powered through compact photovoltaic solar cells incorporated into the timepiece that absorbs solar energy through sunlight and converts the same into electrical energy, quartz watches are fueled by coin batteries. Smartwatches, at the same time, run on rechargeable lithium-ion batteries.
Choosing the Design & Strap Material
If you are buying a watch that you will accessorize with your daily ensemble, it is recommended to go for a lightweight, practical and comfortable watch design. For formal occasions or special events, you need to have a timeless appeal and retro, and conventional watches are the best option. Conversely, if you lead an active lifestyle where you need a wearable that will help you achieve your fitness goals, stick to a functional sports watch with better endurance.
The watch band plays a critical role in determining the overall feel, look and comfort of a watch. It is also a distinguishing factor in how you perceive the timepiece on your wrist and how it compliments your style and outfit. As there are various options in watch straps, you have the option to interchange the bands based on your preference.
While leather watch straps and stainless-steel bracelets are the most sought-after band materials, you should buy a watch strap based on its durability, comfort, high strength, sweat and water resistance. If you are an athlete or indulge yourself in daily workout sessions, choosing a mesh textured rubber or silicone band can be the ideal pick. Luxury watches are sometimes also fitted with ceramic bands, which give them a chic and fashionable look.
At Helios- The Watch Store, browse an ensemble of classic watches for men and women to suit every taste. Whether you are seeking something luxurious, contemporary, or sporty, our range of watches features a myriad of styles and strap types to cater to your needs. You can check out the full luxury range and enjoy great offers from your nearest Helios store. We take a personal interest in helping you choose the best timepiece that suits your personality and vibe!