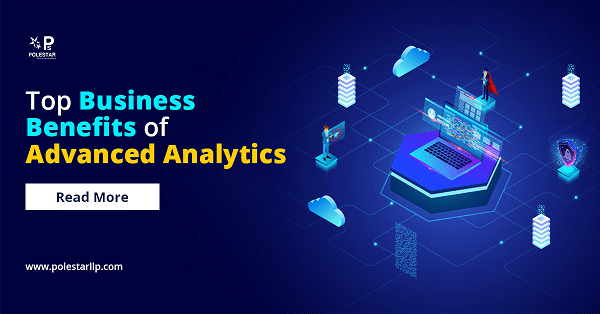 Across the globe, many organizations have cracked the code on embedding advanced analytics into every business unit of their organizations. A handful of organizations understand the importance of investing in advanced data analytics given its promise of better decision making, cost effectiveness, and productivity gains. It is unquestionable that analytics paves the way for innovative solutions, personalized advertising strategies, and enhanced customer-centric experiences. With more and more data being generated every day, the use of advanced data capabilities is gaining high importance.
Overview: Advanced Analytics 
Advanced data analytics uses statistical models and data science techniques to understand the root cause behind problems and anticipate what can happen in the future based on corresponding historical data. Also, it prescribes preventive actions that have to be taken to manifest the desired outcome. The data analytics model offers a high level of accuracy and maximum efficiency. With the help of data visualization tools, the advanced analytics outcomes can be presented in a graphical format.
Business Benefits of Advanced Analytics 
Advanced data analytics can help create pioneering breakthroughs for businesses that know how to utilize their potential. There are numerous advantages that businesses can reap from advanced data analytics to drive best business results and deliver real-time experiences. In this post, we have outlined key business benefits of advanced analytics. 
Better Decision-Making:
One of the key benefits of advanced analytics is that it enhances decision-making with data-driven insights. Big data analytics is significantly changing the way businesses address key operational efficiencies and make customer-centric marketing decisions. In the present hyper-competitive world, data stays at the forefront of businesses as it offers a broad overview of real-time operational performance. By integrating AI, ML, data mining, and other technologies, companies are better positioned to make accurate predictions and explore diverse opportunities.
Mitigate Risk & Fraud: Given the rapid technology advancements and massive volumes of data being generated every day, the use of data analytics has become more prevalent in operational activities, including the fraud detection department. By tapping the full potential of big data analytics, potential high-risk areas can be identified and strategies can be developed to support fraud risk assessments easily. Data management aims to protect all financial information and intellectual assets from misuse by any threats and results in enhanced fraud risk management processes. Use of predictive analytics will help detect potential fraud and ensure timely response to prevent it. 
Personalized customer experiences: Organizations collect customer data from multiple sources that include eCommerce, retail, social media, etc. By implementing a data analytics approach to create comprehensive customer profiles, businesses can understand customer behaviour and create personalized customer experiences. In an increasingly customer-oriented world, it is important to track what kind of product/service is preferred in a multi-channel environment and how organizations can use customer behaviour insights to outperform their peers. Companies have accumulated wealth of consumer data and by deploying behavioral analytics models, customer experiences can be optimized.
Streamline operations: Advanced analytics means comprehensive view of real-time data and organizations can enhance operational efficiency through better optimization of analytics. Data collection and analysis help determine production delays & bottlenecks and predict potential threats that may arise. With advanced analytics, users can timely identify issues and replicate successful solutions across different units of organization. This will allow customization of product/service and increase speed-to-market. In addition, many businesses struggle optimizing their inventory but advanced analytics tools resolve such issues and accelerate inventory management and other business performance.
Lower Inventory Costs and Higher Revenue: The most competitive advantage of advanced analytics is that it enables accurate forecasting across the organization, leading to improved bottom line. Actionable insights often lead to effective sales and operations planning (S&OP) processes. This is because organizations with a more mature use of data analytics improve demand capacity management at lower costs and promises higher revenues. 
Enhance security: Data security remains the top priority of data-driven organizations. Organizations can use data analytics to meet the demands of today's ever-evolving threat landscape. Big data helps diagnosing the causes of past data breaches to process and visualize relevant data. IT departments can use statistical models to determine the origin of attack(s). A proactive approach built on advanced analytics will help security professionals to detect and flag anomalies and deploy effective security protocols.
Wrapping Up
The opportunities offered by advanced analytics are too powerful to ignore. Smart data-driven organizations are utilizing the full potential of data analytics to help understand customer behaviour, automate business processes, and streamline complex operations. They're leveraging real-time data insights to allow rapid decision-making about emerging threats and prospective business opportunities.
There's an opportunity to stay ahead of the curve and build the foundation for long-term success. Polestar's experts can help you navigate dynamic business scenarios with advanced analytics solutions. Get in Touch now!