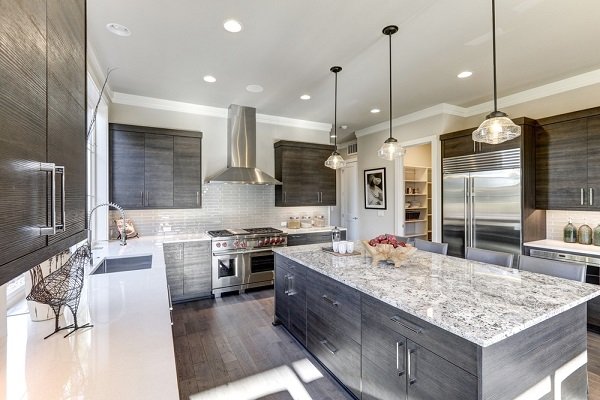 Granite countertops remain the top choice for homeowners among all the other options. But if the cost of granite countertops is still high for you, other low-cost materials are there too. For instance, engineered stones like quartz are something as luxurious as granite and marble slabs. These and many other materials can save your day. 
Well, quartz is one option: concrete slabs and stone tiles are other viable choices. So, if you have a tight budget, high-end materials or natural stones might be pricier for you. That is why here are some of the best cost-friendly options that match your taste and needs. So in this post, we will explore six superb ideas on cost-friendly countertops.  
Some great and affordable options are:
Engineered stones- quartz

Bearable 

cost of granite countertops

Recycled aluminum or glass counters

Stainless steel counters

Ceramic and porcelain tiles

Concrete countertops
Engineered stones- quartz:
Natural stones are there in the form of rocks- they are mined for home applications. That is why they can cost you much more than countertops. In this case, engineered stones like quartz are less costly than other natural stones. The reason is that they are created in a lab and don't contain any flaws. The prices of various brands differ widely, but the quartz countertop comes with a low price tag. 
Moreover, quartz slabs cost you in the range of $50 to $150 per square foot. This price range is much less than marble and granite stones. So, quartz and other engineered stones like Corian are good alternatives for natural beauty and cost. Also, they work perfectly with no seal. 
Bearable cost of granite countertops:
Granite countertops in Virginia are one of the best materials to use in your kitchen and bath area. It's easy to clean and durable, but it can be expensive depending on where you buy it. Also, solid surfaces like granite can cost you somewhere between $40 and $200 per square foot. But, you can try some tricks to make its cost a bit bearable. 
First of all, you should look for overstocked or remnant granite slabs. These chipped or faded slabs cost you much less than branded granite. In general, you have to settle for low-end materials for budget-friendly counters. Plus, you can make them work well by applying quality sealer.
Recycled aluminum or glass counters:
From aluminum to glass, recycled counter options are not a bad idea. Well, these processed slabs do not come that cheap- as they have resins mixed in them. You can expect to pay $35 to $95 per square foot without installation. Although they are tricky to install, the charges won't break your budget. So, these industrial scraps like copper, glass, and aluminum are mixed with resins to create a sturdy worktop. 
Stainless steel counters:
No doubt stainless steel is not cheap material at all. Whether for hardware, cabinets, or counters: it is one of the most costly materials. But, the point of using this material as your worktop is its long life. This type of top surface does not look old or dirty at any cost. That is why it is the best idea for countertops that last.
In addition, stainless steel countertops are easy to clean and maintain. They are mirror clean with only one wipe. So, you can expect to pay an average of $95 per square foot with a lifetime warranty. 
Ceramic and porcelain tiles:
Well, a tile can beat the look of laminate and stone surfaces with ease. They are sturdy, attractive, and give spacious feelings. So if you have a limited budget, ceramic and porcelain tiles are some of the most cost-friendly materials. These tiles can cost you in the range of $5 to $30 per square foot. In this way, you can save double the amount of natural stone surfaces. 
In addition, it is also a low-cost DIY solution. But, make sure you apply the seal before using it. However, these require frequent cleaning due to grout lines. Plus, you can easily match them with your backsplashes. 
Concrete countertops
Concrete countertops cost you about $75-150 per square foot or around $5,000-$10,000 installed. So, they do not come cheap. These are perfect for those who want more natural or rustic-looking tops in their kitchen or bathroom. Also, they come in multiple finishes and colors available for a fair price tag. 
Moreover, their built-in concrete sinks give the kitchen an added touch of luxury without breaking your budget at all. On top of that, they are highly durable with much low maintenance needs. Plus, they are good for people with allergies as they work well with no seal. 
Summing up: 
To sum up! It can be hard to find countertops that fit your budget when you are looking for new ones. If you have a limited budget, engineered stones like quartz, recycled aluminum, and the cost of granite countertops are perfectly bearable. You can see their benefits along with their prices above. If you want more than these three options: stainless steel, ceramic or porcelain tiles, and concrete slabs are viable choices.
All of them are not only budget-friendly, but also they are durable, sturdy, and have low upkeep. So, try any one of these for your home. And go to silver marble granite for quality countertop materials at the best rates ever.