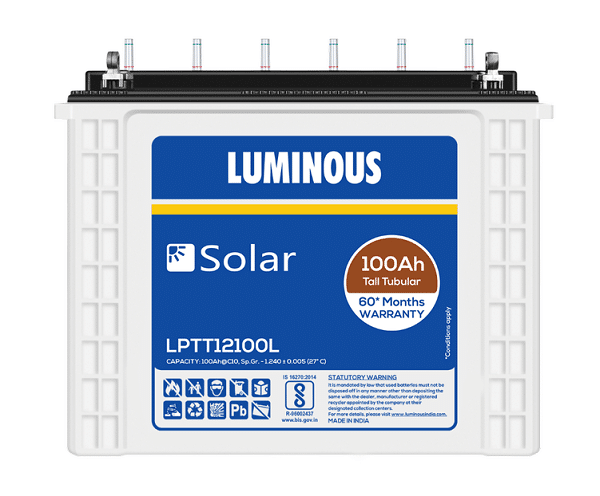 A solar battery is the heart of a home solar panel system. It is meant to store the excess energy produced by the solar panels for later use. As the solar batteries provide the required backup when the solar panels are not producing enough energy, it is very important to choose a good quality solar battery. But now the question is how to choose a solar battery from the mirage of options available on the market. To answer that, in this post, we list six Important features that you must look for in a solar battery when buying one.
1.    Fast Charging
There would be days when your solar panels work for a lesser number of hours. For example, during the winter season and on cloudy days solar panels produce energy for a lesser number of hours as compared to an average day. While installing more solar panels can help tackle this issue but you also need to ensure that your solar battery comes with a fast-charging feature so that it quickly gets charged within those limited number of hours during which the solar panels produce energy. Remember – The speed at which a battery gets charged also depends on the inverter.
2.    Long Lifespan
The lifespan of a solar battery depends on several factors such as the type of battery (flat plate or tubular), the way one maintains them, and the brand from which one buys a battery. Usually, battery manufacturers offer batteries with different warranty periods on the same types of battery so that people can buy a battery based on their budget. For instance, batteries that come with longer warranties are more expensive as compared to ones with shorter warranties.
3.    Environment Friendly
Look for a solar battery that is recyclable and does not emit any toxic elements that are unsafe for your family and the environment. Reputable companies like Luminous India allow customers to give their old lead batteries to registered recyclers, authorized dealers, or designated collection centers so that they don't have to dispose of their batteries in open.
4.    Low Maintenance
A good solar battery is one that requires minimal maintenance. GEL batteries are one of the best in terms of maintenance. These batteries require little to no maintenance. That's because, unlike lead-acid batteries, GEL batteries do not have any liquid and so they do not require any water top-ups like Flat Plate and Tubular batteries.
5.    Cost-Effective
The cost-effectiveness of a battery is another feature that one must consider when looking for a solar battery. We suggest that when buying a battery you should consider the price to value aspect of a battery. So let's say if you have to choose between two batteries – costlier batteries with more features and a low-priced battery with lesser features then you should go with the ones that offer more features.
6.    High-Temperature Performance
The performance of a solar battery starts to reduce with a rise in temperature beyond a certain limit. So, the higher the temperature limit, the better it is. It means the battery would perform optimally even at higher temperatures. And that's not all, high temperatures may even lead to the battery catching fire or exploding. It is this reason one should go for batteries with a high thermal coefficient.
Looking for a reputable solar battery brand?
If you want to buy a solar battery from a trusted name, Luminous India is one company that you must consider & blog website. It is one of the leading battery manufacturers in India and has a customer base of more than 30 million satisfied customers. Their batteries for home are optimally designed for long and frequent power cuts. Also, they have one of the most extensive portfolios of Inverter batteries for home so that customers can choose a battery based on their requirement and their budget.