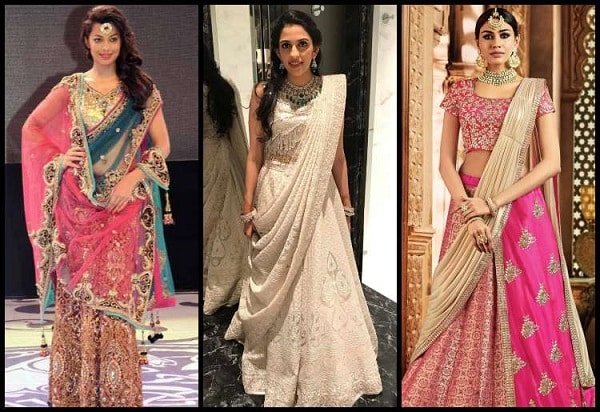 A lehenga style saree is a perfect outfit on your wedding day. It represents the epitome of tradition and legacy. The Bridal Dress Pakistani is a perfect choice due to its traditional and royal appearance.
Elegant colours and delicate craftsmanship improve the Bridal style that makes the Pakistani designer dresses captivate everyone's heart at the very first glimpse.
There are many traditional dress to choose from to look your finest in today's modern times. Still, a lehenga saree is the most popular choice for the majority of the wedding season since they seem equally royal, traditional, and imperial.
If you can't decide whether to wear a lehenga or a saree, a lehenga saree (also known as a lehenga-styled saree) is the way.
What exactly is a Lehenga Saree?
The lehenga saree is a semi-stitched garment that is divided into many components. The skirt is the component that truly helps one recognize a lehenga saree; hence it is undoubtedly the most significant element in the entire attire.
It looks good in A-line or flared silhouettes. However, no matter what design it is, one detail cannot be overlooked, the pleats embroidered into the skirt.
Another distinction between a lehenga style saree and a lehenga is that the pallu of the dress is sewn onto the skirt on one side. The other side is left open so that women may effortlessly throw it over their shoulders.
Lehenga Saree Details:
The lehenga style saree draping is not exactly like a saree, nor is it extremely distinct from the concept. Here are a few characteristics that set this style apart.
This saree comprises three parts: a classic lehenga, a blouse, and a choli or dupatta. The choli or dupatta should be draped over the skirt in a certain way.
The lehenga saree is available in a variety of colours and styles. Depending on your preferences, you may go for a traditional style or a trendy designer one. They can be embroidered or zari-worked, or they can be embellished and heavy-worked.
When to Wear Lehenga Saree
The bridal lehenga saree made up of finest silk and brocade materials and decorated with sequins, stones, and other heavy ornaments.
Brides love this dress because it is so comfortable, breathable, and easy to wear while retaining all of the splendour and beauty of traditional designer sarees for weddings.
WhichJewellery is Suitable for LehengaSaree?
If you want your lehenga style to stand out and create an impression, the first thing you should focus on is your jewellery.
They resemble a queen's beautiful crown. For your ensemble to be remarkable, you must understand what might make a deal with your clothing and boost its style even more.
Suppose you're one of the many brides to consider wearing a Lehenga saree on the wedding day but aren't sure which kind of jewellery should be worn.
One thing that you should keep in mind is that do not wear heavy necklace jewellery. Go with Lightweight jewellery.
You can wear light jewellery like classic necklace, jhumkas, diamond ring and ear cuffs are what you should seek for these look utterly royal looks.
Which Hairstyle with LehengaSaree?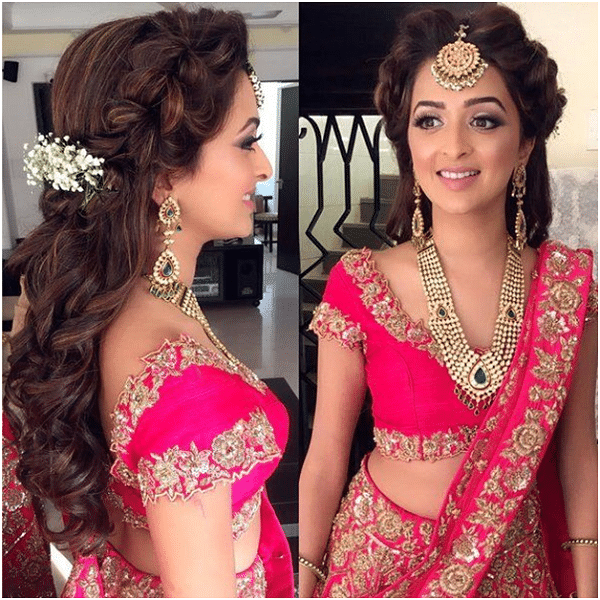 If you have short hair, this hairstyle is ideal for you. You can build a bun with your short hair and embellish it with white flowers. This bun is simple to make.
If you think your hair is too short of making a bun. We recommend using a bun extension. That is pretty cool and appears to be very natural.
Where you can find Lehenga saree style? 
There are different type of lehenge saree style are available in the market. Pakistani Wedding Dresses are exquisite attires with the ideal combination of heritage and elegance. Collections based on wedding celebrations are offered for the convenience of the buyer.
This wedding dress comes with embroidery like, dabka, nagh, naqshi, zardozi, and gota patches and fabrics such as velvet, organza, chiffon, and jamawar are employed.
Trendy Pakistani Bridal Lehenga, Lehenga Choli, lehenga saree style,Gharara, Bridal Sharara, and Bridal mazi for Weddings and Engagements are part of our latest Pakistani Designer Bridal Wedding Dresses Collection.
Dresses by TenaDurrani, SaniaMaskatiya, Maria B USA, AsimJofa, NidaAzwer, Nomi Ansari, Fahad Hussayn, Deepak Perwani,Faraz Manan, and Others. 
Conslusion 
So you have a deep knowledge about the dress. But it is quite tricky "how to wear a lehenga like a saree without even purchasing one.
It can appear difficult at first, but once mastered and grasped hands on, it appears the most elegant and produces stylish vibes that one would not expect. Don't forget to share your favourite of the lehenga saree in the comments section below.