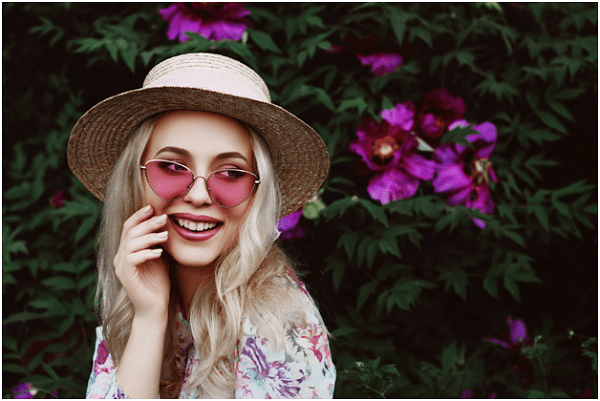 It's the most wonderful time of the year and the festive season means parties. Parties mean putting your best face forward! Oops! Are we ready for that? The hustle of wrapping up 2021 may have made us forget to snag a few items to enhance our look but no worries! This style guide is sure to help you with that. The theme for this guide is cat eye glasses. Why? They're one of the most versatile styles of glasses that can be found in rounded as well as angular shapes, thereby suitable for almost every face shape! Let's go!
1. Transparent
Clear frame glasses like these Dolce & Gabbana DG5025 Faced Stones 3133 frames have an intrinsic quality of reflecting whatever hue of clothes you're wearing while being in harmony with your skin tone. The transparency and versatility of such types of glasses make them the foolproof style choice for 2022 and beyond! The angular frame is ideal for oval or round-shaped faces. Want to try it on? No problem, find this product at SmartBuyGlasses where you can virtually try-on these frames plus thousands of other frames
2. Metal Semi-Rimless
Semi-rimless glasses are designed to be lightweight, so if you are someone who wants to feel like they're not wearing glasses, metal semi-rimless frames like the Chopard VCHD81V 08FC are great picks! The metal accents on the top half and edges give a classy look to the wearer, whilst complementing most looks thanks to the very flattering rose-gold body. If you want to buy this but don't remember your prescription, check out the prescription lens scanner at SmartBuyGlasses which is a free FDA-approved app that extracts the prescription from a current pair of glasses and requires just 4 everyday objects.
3. Reading glasses with blue light protection
If you're above the age of 40 and find that you're having a tough time reading or seeing objects up close, you may have presbyopia. The solution? Reading glasses! These Gunnar Jewel Reading Glasses Blue-Light Block JWL-00101 are not your average reading glasses, they are combined with blue light blocking technology to help counter the negative effects of blue light on your eyes and overall health. They're crafted of acetate, one of the most sturdy materials that have a premium look and feel.
4. Pop of Colour
These glasses scream bold, edgy, exciting, and unconventional! The bold fluorescent yellow and classic tortoiseshell is the perfect marriage to pull off a bold look effortlessly. Etnia Barcelona is inspired by the artsy capital of Spain where you can see creativity and color everywhere.
If you've always wondered which cat eye glasses will be right for you, you can now get all your style questions and wishes answered not by Santa, but by SmartbuyGlasses. Use their easy tools to make shopping easier, more accurate, and fun! Shop till you drop with over 80,000 frames and more than 180 brands to choose from. If you have any questions on eye health or your prescription, you can reach out to registered dispensing opticians who are always on-call at SmartBuyGlasses to help customers get perfect vision for less!