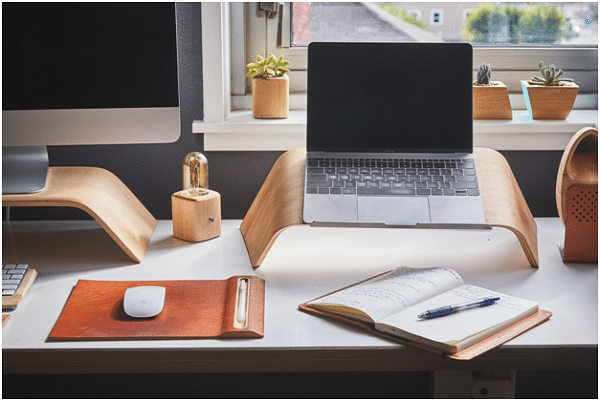 Congratulations! You've just moved into a new office, which allows you to design it exactly as you want.
Maybe you've gotten a promotion and obtained a gleaming new workplace. Or perhaps you purchased start-up office space for your firm and recently received the keys.
Alternatively, maybe you're currently telecommuting more frequently these days and are setting up a home office.Whatever the cause, it is a momentous occasion in your life.
Setting up an office, especially if you're doing it from the ground up, may soon become a costly endeavor.
How do you know what equipment you'll require?
Should you buy items as needed or prepare for just about anything?
If you think you are not being able to think and execute your new office workspace properly, a good idea would be to reach out to a commercial fit out company in dubai.
If you have a lot of money, life is effortless for you. But if you're like most individuals, setting up your office within a budget will be difficult.
You may also need to consider space limitations if you don't have access to a large office.
There are Alternatives:
It would be best to consideralternatives before you begin investing in necessities to finish the look of your new working environment.
If you have trouble establishing a home office but want to work from the comfort and atmosphere of an office, consider renting one.
Rental office space is a beautiful method to obtain everything you need without spending an arm and a leg. When you rent coworking space, you'll get access to furniture, a desk, and necessary business supplies.
However, if you're loaded (enough to afford a modest workplace on a tight budget), use the following pointers:
1. Allocate a Small Space in Your Home
Most of us find it challenging to adopt a new storage container in our flats, much alone an office. When setting up your home office, designate an unused space in your living room or bedroom and furnish the walls with shelving to store your materials.
Since workstations are more about functionality and less about design, you can use a small closet or a nook as your office space. There's no need for a separate room or ornate furnishings; all you need is space.
2. Furniture Doesn't Necessarily Mean New.
It is okay to be overexcited about working from home and buying all new furniture for your office. But, this might not be the best way to stay within budget.
Reusing what you have or, even better, what someone else has, can save you a lot of money. Check out garage sales, flea markets, or online marketplaces like Facebook Marketplace or Craigslist.
You'd be surprised at the great deals you can find on gently used furniture.
It might take some extra DIY skills to fix up an old piece of furniture to make it work for your office, but the result will be worth it.
So, be practical and get your hands on that grandma's ol' desk she's been trying to get rid of. It has a lot of character, and it will save you money!
3. DIY Your Office Supplies
Making your office supplies is a great way to save money. For example, you can easily make your envelopes with excellent paper and a glue stick. Or, if you need a stapler, use a simple binder clip!
There are tons of ways to get creative with this one, and it'll save you some cash in the long run. If you're short of ideas, open up Pinterest and get inspired! Soon you'll have your cute stationery holder, bookends, and paper clips!
4. Ask Around for Technology:
Before you go and buy the latest and greatest computer, it's worth asking your friends and family if they have any old laptops or computers that they don't use anymore.
You'd be surprised how many people are willing to give away their old technology!
You'd also be pleasantly surprised looking at refurbished computers and finding a powerful PC like Dell OptiPlex 3020 without going over budget.
Of course, once you've got your hands on a laptop, make sure to download some free software like LibreOffice so that you don't have to spend money on things like Microsoft Word.
Also, don't forget to run an antivirus program, check battery health and charger, and create a backup of all your important files! You don't want trouble when you finally start working from home.
5. Buy in Bulk:
Buying office supplies in bulk can save you a lot of money in the long run. Check online for deals on office supplies and try to find a store that offers a discount when you buy in bulk.
You can also ask your friends and family if they have any extra office supplies that they'd be willing to give you.
It will help list the things you need and the things you would like to have in your office. Some essential items on the list that you may buy in bulk include:
Stationery supplies (paper, envelopes, pens, pencils, highlighters)
Software (word processing software, internet security software)
Cables and connectors (ethernet cables, phone cords)
Bulletin boards and pins
Storage boxes and baskets
6. Prevent Clutter:
One of the best ways to prevent clutter in your office is to have designated places for everything. Have a place for papers, pens, and pencils, a place for staplers and scissors, etc.
When you need something, you know exactly where to look. It will also help keep your desk clear to work on it more easily.
You can invest in multiple storage boxes to organize your things and keep your office clean. You can also use baskets to store paper, pens, and other office supplies.
Another way to prevent clutter in your office is to use bulletin boards. You can use bulletin boards to pin up important papers or notes that you need to remember.
This way, they will be within easy reach, and you won't have to search through a pile of papers to find what you're looking for.
7. Save on Energy:
No, we don't mean yours. We mean the amount of energy your office consumes. One way to do this is by turning off electronics when you're not using them.
For example, turn off your computer and printer when you're not working. When feasible, utilize natural light to save money on energy. Try to position your desk to get as much sunlight as possible during the day.
Make sure you use compact fluorescent lights or LEDs instead of incandescent bulbs if you must utilize artificial light. Compact fluorescent bulbs and LEDs use less energy and last longer than incandescent bulbs.
Another strategy to decrease your energy costs is ensuring that your workplace is adequately insulated. You may be wasting money by heating or cooling an uninsulated office if it's not.
8. Here is your Feel:
We understand that it's imperative to create an ambiance to foster productivity and creativity, but sometimes tight budgets make this problematic. Luckily, there are ways to cut corners without sacrificing comfort.
Adding plants is a beautiful idea to improve air quality and help reduce stress, and many plants don't require a lot of light or maintenance.
You could use your old frames and add new and motivating quotes or images to give your space a fresh look.
Painting the walls in bright colors is another great way to make a small office feel more extensive and welcoming. Decorating a space on a dime is possible if you get creative and use your imagination!
Bottom Line:
When setting up an office on a tight budget, don't be afraid to use your imagination! Begin by considering your needs, the available space, and, of course, your money! Several methods make your area seem more inviting and pleasant without spending a fortune.