Caring for black natural hair is not difficult once you know the dos and don'ts. In this guide, I have outlined easy ways you can care for black hair. Keep reading to find out.
8 Easy Ways to Care for Natural Hair
Learn Your Hair Type
The mistake most people make is buying hair products just because Mrs. A swears by it or even because blogs rave about it.
In the end, the product winds up on your shelf because it doesn't live up to the hype. There are different hair types for black women.
I will quickly explore them.
Type 1: which is straight hair.

Type 2: Which is wavy and, depending on the intensity of the wave, can be type 2a, 2b, or 2c, with 2a being the least wavy.

Type 3: This hair type is curly and is also categorized into three, with 3a being the least curly of the gang.

Type 4:  is characteristic of very tight curls grouped into 4a, 4b, 4c.
Of course, you can have a combination of any of these hair types.
Get the Right Products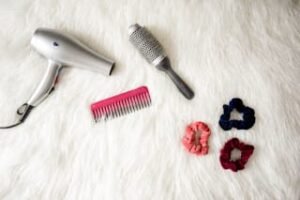 Now that you can identify your hair type, the next step to care for your tresses is by using the right products. Use lightweight products that penetrate your hair follicles easily.
Natural hair is not easy to straighten, so if you choose a hair straightener, use the best materials. When going to dry hair then you need to select a quality hair dryer for natural hair.
Nowadays, it will be easy to get a hairdryer within 100 dollars; see the list here.
Mainly, it would help if you kept in your eye choosing the best hair products to get better results from your natural hair.
Keep Your Hair Moisturized
Moisturizing is vital for black natural hair. Ensure that your strands are adequately moisturized and conditioned. There are several moisturizing serums and leave-in conditioners out there – try them out.
Hot Oil Treatments
Hot oil treatments provide you with a great way to add moisture and shine to your natural black hair and improve its elasticity. So book a session once or twice a month and enjoy the benefits. You can also do cold oil treatments to make the hair more manageable.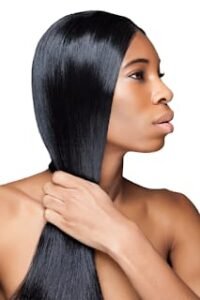 Limit Your Heat Treatments
Heat styling strips your hair of natural oils and alters its natural texture. Unfortunately, that means that your hair is weak and more prone to breaking. If you have to style your hair with heat, coat your strands first with a heat protectant.
Trim Split Ends
I know you want length, but sweetie, those split ends are not healthy; they cause severe damage to your hair. Attack them with your hair scissors as soon as they rear their ugly heads.
Get a Silk Bedsheet and Pillowcase
A lot of naturalists are still using cotton sheets and pillowcases and wonder why their hair keeps breaking. No, it is not sorcery that your hair keeps snagging on the cotton material and breaking. Switch to silk beddings and enjoy the bliss that is length retention.
Wear Your Hair in Protective Styles
The best way to care for black hair is to protect it from the harsh weather. And protective styles provide you with a cute way to do that. There are a gazillion protective styles out there; pick your favorites and rock them with pride.
Conclusion
Caring for natural black hair is pretty easy; eat right, lay off the heat treatments, wear it in a protective style and use the right products.