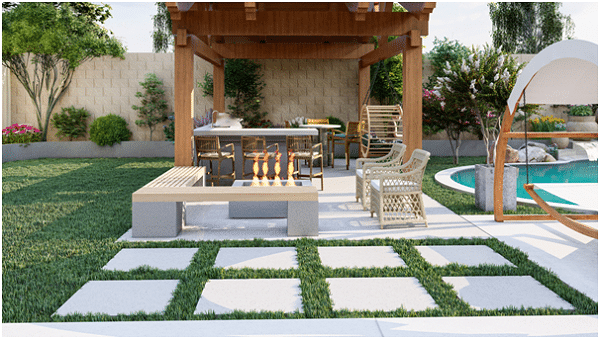 One of the best ways to take your outdoor entertaining space to the next level is by building an outdoor kitchen. However, planning and designing one isn't as easy as simple as buying a grill and adding patio furniture. You have to ensure that the kitchen can withstand the elements.
In this guide, we'll share some of the key points you need to consider when designing an outdoor kitchen. We'll cover everything from appliances to outdoor cabinet materials.
1. Pick an ideal location
Before you begin the home renovation project, evaluate your outdoor space. Should you connect your kitchen to a transitional living room? Will your kitchen need additional protection from wind or rain? Is there enough room for a full-sized kitchen, or do you need to settle for a kitchenette? All of these factors will have a huge impact on how you plan the space.
2. Create a functional layout
Like an indoor kitchen, an outdoor one must also have an efficient and ergonomic layout. As much as possible, try to create a traditional kitchen triangle. Place the stove, sink, and refrigerator within close distance of each other such that they create an invisible triangle shape. A skilled building designer or draftsman can help you plan the kitchen layout.
3. Look for high-quality outdoor appliances
With the limitless number of kitchen appliances available, it's hard to make the right choice. When narrowing down your options, consider the following:
Outdoor rated: Appliances must be outdoor-rated, which means they're specially designed for outdoor kitchens. They're more corrosion-resistant compared to regular appliances and have protected wiring and plumbing.
Size: Check if the appliances you want can fit the available space in your kitchen.
Budget: Basic outdoor kitchens have a stove, a barbecue grill, and a mini refrigerator. If you want to take it a step further, consider adding an ice maker, a wine chiller, a dishwasher, or a pizza oven.
Utilities: Outdoor appliances either run on electricity or gas. Depending on zoning requirements, you may need to use one or the other.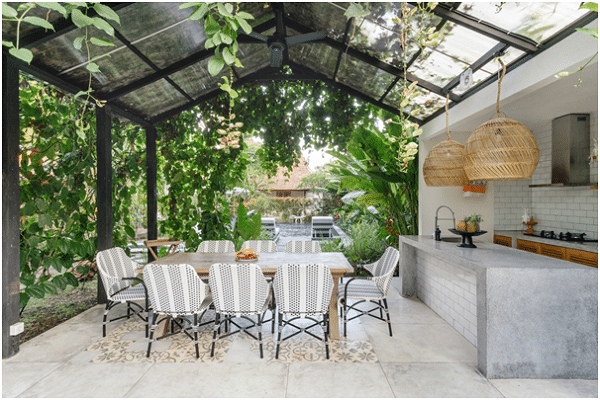 3. Pick countertop and cabinet materials
Countertops and cabinet materials should be made out of materials that can handle temperature fluctuations and inclement weather. Ideally, they should last at least a decade without needing to be replaced, refinished, or refaced.
For cabinets, we suggest you choose from any of the following:
Stainless steel: Stainless steel cabinets have a sleek, stylish, and modern appearance. They're also unbeatable in terms of durability. Make sure to choose ones that are corrosion-resistant and have a powder-coated finish so that the cabinet will be highly resistant to rusting.
Marine-grade aluminum: Aluminum is another material that's naturally corrosion-resistant, although it's a bit lighter than steel. It's ideal for pullout drawers and accessory racks.
Masonry: Masonry cabinetry means covering a metal frame with concrete blocks with stucco, decorative stone, or brick. Masonry cabinetry will give your outdoor kitchen a unique outdoor aesthetic.
PVC: PVC kitchen cabinets are weather-proof and do not rust or stain. They can be made to replicate the color and texture of real wood, giving your kitchen a stylish, indoor-outdoor feel.
As for the kitchen countertop, take your pick from these common materials:
Granite: Granite countertops are stain and weather-resistant. They're also available in a wide range of colors and patterns. However, they can be costly and may also get hot when placed under direct sunlight.
Quartz: Like granite, quartz is a durable and stylish countertop material. It's also a non-porous surface that resists stain and bacteria growth. Keep in mind that quartz may be vulnerable to cold weather damage and may discolor when placed under direct sunlight.
Concrete: Concrete countertops are weather-resistant and affordable. However, they are prone to cracking and are also susceptible to stains and water spots. Make sure to seal them before use.
Stainless steel: Stainless steel countertops are food-safe, easy to clean, and prevent bacteria growth. Still, they may get hot under direct sunlight and are also vulnerable to scratches.
4. Find stylish outdoor furniture
No outdoor entertaining space is complete without adequate seating and furniture. Add a large, low table where guests can put their drinks and plates while socializing. You can also add a bar area with stools where you and your friends can have informal gatherings.
Make sure to choose furniture and seats that are made from weather-resistant materials. These include PVC mesh fabric, polyester rope, and rattan.
5. Add shade/covering
An outdoor kitchen requires a sturdy overhead covering. Consider installing a pergola or awning that will prevent the sun's rays from damaging your outdoor furniture and appliances. These coverings will also protect them from the rain.
6. Consider ventilation/temperature control
The best outdoor kitchen should be one that can be used almost year-round. So, make sure to add ceiling fans for the summer, which are great at providing relief from the heat and keeping mosquitos away. For the cooler months, consider adding wall-mounted or umbrella heaters. If you have the space, you can also ask your builder to add a firepit.
7. Privacy screens
Aside from adequate shade, you can also add privacy screens or tall bushes to make sure that your outdoor area remains secure. These can also prevent strong winds from blowing through the kitchen and causing disruptions.
8. Outdoor lighting
When illuminating an outdoor kitchen, consider safety first. Make sure that the worktop, stove, and grill have bright task lighting. Then, add embedded landscape lighting or dimmable lights for the dining area. If you want to create a more romantic ambiance, consider adding candles on the tables as well.
Start building an outdoor kitchen
An outdoor kitchen is an excellent place to prepare meals and socialize with family and friends. However, because it's constantly exposed to the elements, you need to be careful when building one. Make sure to choose outdoor-rated appliances, hardy materials, and decor. That way, your kitchen will last for as long as possible.