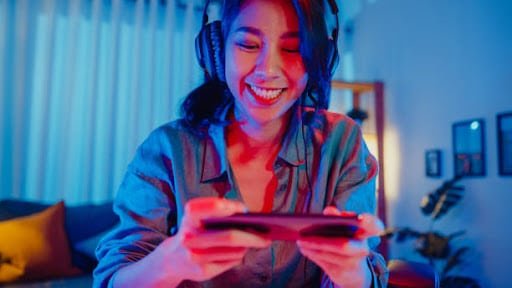 The Modern Mobile Gamer Report states that the modern age gamers are from all age groups. They are not even gender-specific. The gender ratio is reported to be about 50/50. 
In addition, highly qualified people with higher income tend to engage more in mobile games. 
Let us refocus on what truly matters to modern gamers in this post!
Mobile Gamers Demographics
Just like the Google Play Store, mobile gamers use iTunes App Stores. It is one of the most popular mobile app categories. Experts predict that the mobile gaming  industry will keep nourishing over time.
So, who are modern gamers? This has been a frequently asked question in the gaming industry and marketing agencies striving to reach more consumers. Mobile gaming has become extremely popular in the past few decades. People enjoy their passion for gaming entertainment using their smartphones. 
Key mobile gamer demographics are:
There are over

3.24 billion mobile gamers

worldwide.

The age of the average gamer is around 35 years.

The biggest gaming market in the world is Asia. It has 1.48 billion gamers. 

Over 50% of Europeans play mobile games.

Over

46% of U.S gamers

are females.
Mobile games have become a trend in the past few years. Since no high specs devices are required, kids get their hands on better mobile devices through phone refurbishment and they are good to get started. This fact has made mobile gaming easy to access for everyone. 
Why Do Mobile Consumers Play Games?
Mobile consumers play games for many different reasons. A report originated that 64% gamers play just to pass the time, while others play for fun, relaxation, challenge or to escape from reality. 
What Are the Most Popular Game Types?
Smart phone's most popular games include Word games, Match games, Puzzle games, Card games, Simulation and Racing games, Action games, Kids games, and so on. Casual and hyper casual games are widely popular to the modern mobile gamers. 
Do Gamers Have Types? 
Yes. Four basic types of modern mobile gamers are important to understand. 
Mobile gamers are not considered as professional as hardcore PC gamers, which is an unfortunate scenario for talented individuals in the gaming industry. But currently, their dedication and record-breaking performances are changing the narrative. 
They are trying to escape the stereotypical definition and express themselves in categories.
These types include:
Hardcore gamers

Mid-core gamers

Social gamers

Casual gamers
Hardcore Mobile Gamers 
It's the most Sought after type! Hardcore gamers are the most passionate ones. They love to play games online. It won't be wrong to say they eat, drink and sleep on cell phone games. Most kids and even adults trade-in phones to get better devices and reach their level of hardcore in mobile gaming. But in order to make the process easier and get efficient devices, you need to have a trustworthy mediator. Considering great customer reviews, smartphonePlus is one of the best trusted sellers that ensures best deals with great warranty. 
Mobile phones are the big investment that you make. If you are a hardcore mobile gamer, pre-owned phones will benefit you greatly. You need not spend a chunk of your budget in the mobiles, if you opt for the second hand mobile phones. The For instance, iphone 11 pro's price is $899 in the market. But, you can get pre-owned product for $499.95. Hence, remaining amount can be used to enhance your gaming experience to buy other mobile accessories. 
Getting titles and leveling up in games is a serious business for hardcore mobile gamers. They often overlook other responsibilities, and people spend more and more of their time playing mobile games. They are the 'real' value providers to mobile gaming companies. 
Midcore Gamers 
Midcore gamers believe that time is valuable. Their leisure time is not as largely devoted to playing games on the phone. They are skillful but find no point in spending most of their time playing around, even the latest video games. They are involved heartily in games when they plan to and then pay full attention to every detail. 
Midcore gamers like to stick to a specific gaming category. They have limited their play time due to some decent reasons. The reasons might include family life, education, job requirements, etc. The fun part is that they are also a huge opportunity for brands. 
Social Gamers 
Social gamers are the fun-loving types who enjoy playing with friends and family. They play games while building relationships indoors or outdoors. If you're a social gamer, you must have searched for used cell phones near me to enjoy a premium gaming experience. 
Mostly, they plan to get-togethers on game releases or weekends. They are also known as 'socializers.' They follow the 'sharing is caring' rule. They improve their gratifying experience with the achiever badges and rankings. 
Social gamers like to make friends in their gaming groups. They love to share and exchange the latest news about new releases or relevant updates with co-gamers. 
As competitive as they can be, they enjoy a sense of achievement when they win against their loved ones or gamers around them. They are progress lovers, being all about points and scores. 
Casual Mobile Gamers 
Casual gamers just go with the flow. They play for the timely fun-based activity. They play around during office breaks or whenever they are on the go. Getting engaged for a while and entertained is enough for them to pass the time. 
They also are not much into following a specific type of game. You will find them playing a battle game or a simple puzzle game some other time. 
Casual mobile gamers take gaming as a light source of fun when they don't have anything else to do. The mobile gaming industry has to put a lot of effort into creating various games to interest and engage this type of gamer.  
Click the link here to check out some of the easy breezy casual mobile games if you are a gamer of this type. If you don't find any game there that entices you, don't fret. Many casual games are being rolled out almost daily.
The Psychology Behind the Gamer Mindset
Today's advanced varied gaming approach is ever-changing, unlike the traditional one. Even at different times, know that the gamers also learn as they play with the special motivational force that drives them.
Understanding the shifting needs of global modern mobile gamers are very important to achieve a better 'new life' adjustment. Stronger gamer immersion is inevitable, so why not focus on mobile gamers' psychology?
Mobile gamers behaviour shifts include the following:
They Spend Smartly
Modern mobile gamers have a laser-focus on spending smartly and managing finances. This is due to the rising inflation rates and the constant urge to improve lifestyle on other basic needs of life as well. They still prefer buying high quality games so they can get long-term game value out of them. 
Gamers are motivated by great value in-game proceedings and promotions. Getting rewards and earning bonuses trigger them to seek for more. It's all about having a better gaming experience after all!
They Demand Exceptional Gaming Experiences Cross-Device
Modern age mobile gamers demand for seamless cross-device gaming experiences, as they have come across incredible technological advancements by far. Over 70% of mobile gamers also use other devices to play. Gamers' desire to play the same game on different platforms seems to keep increasing every now and then. 
The cross-device gamers now expect to have a better user experience that is adaptive to various device features. Needless to say, their intention behind this is to increase engagement. 
They Want to Connect More Through Mobile Gaming
Mobile gamers like to spend more time by going out to attend social activities. Also, they enjoy building connections with other fellows in game. This re-connection also helps the sellers in the early stages of a game release by enhancing social interaction among gamers. 
Connected through gaming enables users to chat functionally. This is a great way to drive engagement and build a strong gaming network. Games manufacturers can benefit from this activity on a large scale by making more interactive games and generating huge amounts of revenue. 
Can We Expect Improvement in Modern Mobile Gaming Experience?
Gaming patterns show that resonance of the interface with the players' needs is more important to drive engagement. This requires quality design and a success criteria that meets with gamers' expectations. The mobile games create a huge impact on their day. Maximum value brings maximum satisfaction by the end. 
Above is the brief on understanding the real building blocks of mobile gamer value and rituals of mobile gaming in 2022.   
Wrapping Up
The billion-dollar gaming industry targets a huge number of gamers around the globe, using various genres of their interest. 69% of consumers prefer gaming on mobile over using social platforms, whatever the mobile gamer stereotype may be!
Whether it's a Candy Crush, Angry Bird, or Minecraft player, we all have that special game-lover in our lives. If you are still trying to figure out the type, know that understanding the modern mobile gamer type is simple. Once you observe gamers' routines and psychology, life becomes much easier as you interact with them mindfully.