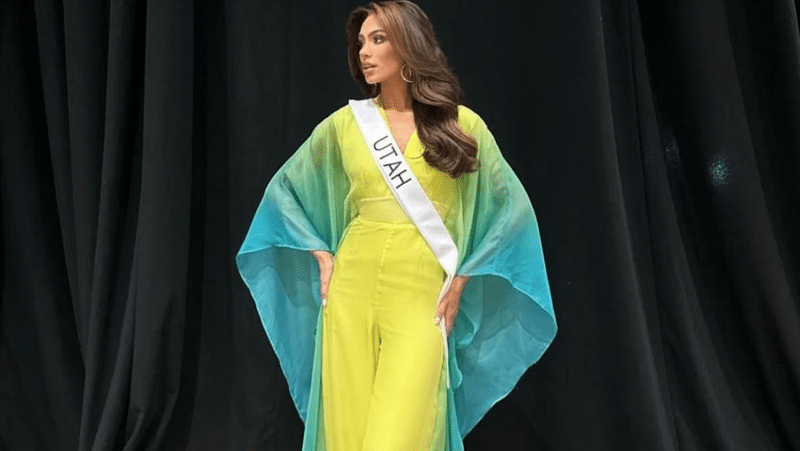 In the dazzling world of beauty pageants, one name has recently shone brighter than the rest – Noelia Voigt. Crowned as Miss USA 2023, Noelia Voigt, hailing from Utah, emerged victorious in a fiercely competitive contest held at the Grand Sierra Resort in Reno, Nevada. But who is Miss USA 2023, Noelia Voigt, and what makes her stand out among the crowd? Let's dive into the life, achievements, and aspirations of this remarkable titleholder.
The Journey to Miss USA 2023
Noelia Voigt's journey to the coveted Miss USA 2023 title was nothing short of extraordinary. She faced off against 50 other state titleholders, proving her mettle at every stage of the competition. The initial pool of contestants was trimmed down to 20 finalists, and then further reduced to a final five after the swimwear and evening gown rounds.
The final Q&A round proved to be a decisive moment for Noelia. When asked what she would contribute to the Miss Universe Organization as a "brand ambassador" and Miss USA, she emphasized her identity as a "bilingual Venezuelan-American" and pledged to connect with diverse communities across the United States. Her eloquent response resonated with both the judges and the audience, solidifying her path to victory.
The Notable Judging Panel
The Miss USA 2023 pageant featured a distinguished judging panel, including notable figures such as Vivica A. Fox, former "Real Housewife" Luann de Lesseps, and beauty vlogger Patrick Starrr. The panel's presence highlighted the importance of a modern and progressive approach to a long-standing tradition, as stated by President and CEO of the Miss USA Organization, Laylah Rose.
The Legacy Continues
Noelia Voigt succeeds the 2022 Miss USA, Morgan Romano of North Carolina. Morgan Romano had taken over the title from R'Bonney Gabriel of Texas, who was crowned the 2022 Miss Universe. Gabriel's win was marred by claims of favoritism, leading to an investigation by the Miss Universe Organization. Ultimately, the accusations were found to be false, and Noelia Voigt of Utah emerged as the crowned Miss USA 2023 through a rigorous and competitive selection process.
Who Is Noelia Voigt?
Beyond her success in the world of pageantry, Noelia Voigt is a multifaceted individual with a range of accomplishments and interests. She is a dedicated student, currently pursuing studies in interior design, real estate, and project management. Her professional journey includes work as a consultant for RH Birmingham, where she likely gained valuable experience in the interior design industry.
Advocacy Work and Authorship
Noelia's commitment extends beyond her academic pursuits. She is an advocate for immigration rights and has been a strong supporter of dating violence awareness and prevention through her partnership with the One Love Foundation. In addition to her advocacy work, she is a published author, with a children's book titled "Maddie the BRAVE," addressing the crucial issue of bullying.
A Diverse Career Path
Noelia Voigt's career has been marked by diversity and achievement:
Licensed Aesthetician and Certified Lash Technician
Starting in August 2019, Noelia worked at the Iron City Lash Bar in Birmingham after obtaining her license as an aesthetician and becoming a certified lash technician. This demonstrates her commitment to the beauty and skincare industry.
Pageant Achievements
Noelia Voigt's journey through the world of beauty pageants includes notable successes. She earned titles like fourth runner-up and first runner-up at the Miss Florida Teen USA pageants in 2017 and 2018, respectively. Her first runner-up placement at the Miss Alabama USA competition in 2022 showcased her dedication to pageantry.
Miss USA Title
One of the crowning achievements of Noelia Voigt's career is undoubtedly winning the title of Miss USA. Her victory in the Miss Utah USA competition, after competing against 19 other candidates, marks a significant milestone in her pageant journey. Her win not only highlights her beauty and grace but also her ability to represent the United States on the international stage.
Family and Education
Noelia Voigt's diverse background includes her family and educational journey:
Noelia Voigt's Parents
Born in Florida, Noelia Voigt's mother has Latin descent, while her father is American. While specific details about their names are not available online, this diverse cultural background likely played a role in shaping her identity and experiences.
Educational Path
Noelia Voigt's educational journey likely began at Pine View School, where she received her foundational education. She also attended the Florida Virtual School, indicating a willingness to pursue studies online, possibly to balance her education with other commitments.
Noelia's educational path took her to the University of Alabama and Jefferson State Community College. This diverse education has equipped her with a broad range of skills and knowledge, which she can apply to her career in interior design, real estate, and project management.
Social Service and Advocacy
Noelia Voigt has demonstrated a strong commitment to social service and advocacy:
Immigration Rights Advocate
Noelia actively engages in advocacy work related to immigration rights, supporting immigrant rights and reforming immigration policies.
Dating Violence Awareness and Prevention
For six years, Noelia Voigt has been a dedicated advocate for dating violence awareness and prevention through her partnership with the One Love Foundation. Her work likely involves education, awareness campaigns, and supporting survivors of dating violence.
Hobbies and Interests
Noelia Voigt has a diverse set of hobbies:
– **Dancing:** Noelia enjoys dancing as a form of physical activity and creative expression.
– **Camping:** She embraces the outdoors and the serenity of nature through camping.
– **Australian Shepherd:** Noelia spends quality time with her Australian Shepherd, teaching the dog tricks.
A Special Relationship
Noelia Voigt shares a romantic relationship with Jack Hendrix. While specific details about their relationship's inception and duration remain private, their affection for each other is evident through social media posts and shared moments.
Youthful Ambition
As of 2023, Noelia Voigt is just 23 years old, making her one of the younger Miss USA titleholders in recent years. Despite her youth, she has achieved significant milestones in her career and personal life, showcasing ambition and dedication to making a positive impact on various fronts.
Who is Miss USA 2023 – FAQs
1. Who is Miss USA 2023?
Miss USA 2023 is Noelia Voigt, a titleholder from Utah who won the prestigious Miss USA pageant held at the Grand Sierra Resort and Casino in Nevada.
2. What are some of Noelia Voigt's achievements?
Noelia Voigt is known for winning the Miss USA 2023 title. She is also pursuing a career in interior design and is involved in advocacy work, including immigration rights and dating violence awareness.
3. How old is Noelia Voigt?
As of 2023, Noelia Voigt is 23 years old, which makes her one of the younger Miss USA titleholders in recent years.
4. What is Noelia Voigt's educational background?
Noelia Voigt has pursued education at institutions such as the University of Alabama, Jefferson State Community College, and the Aveda Institute Birmingham. She is currently a student in the field of interior design.
5. What hobbies and interests does Noelia Voigt have?
Noelia enjoys a variety of hobbies, including dancing, camping, and spending time with her Australian Shepherd, teaching the dog tricks. These interests showcase her diverse range of passions beyond her career and advocacy work.
For more insights into the life and achievements of Noelia Voigt, the crowned Miss USA 2023, stay tuned as she continues to make her mark on the world stage.