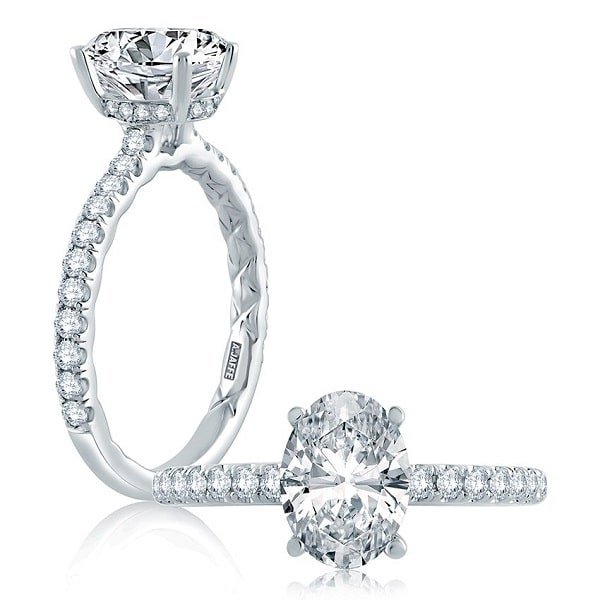 As we all know, an engagement ring is the quintessential expression of love and commitment. Exchanging engagement rings and wedding bands has been the norm across cultures worldwide. Nothing says "I love you" better than a diamond ring, like a pave engagement ring or a halo engagement ring – after all, a diamond ring is considered the ultimate form and symbol of luxury and class. However, did you know how this ritual started? Here is a throwback to the fascinating history of engagement rings.
The Origin of "Engagement Rings"
Historians and experts believe that the typical exchange of rings at a wedding ceremony dates back to ancient Egyptian times. Studies suggest that Egyptians exchanged rings at wedding ceremonies because the ring, representing a circle, was symbolic of an eternity to them. What could possibly be a better way to represent and commemorate your undying love for each other? Evidence (though not conclusive) suggests that in ancient Rome and Greece, signets or seal rings with names and titles of the owners inscribed on them were used for authentication purposes. However, as you may have guessed, these rings did not have the archetypal engagement motif associated with them. However, unlike the Egyptians, the Greek mostly used these rings as decorative trinkets.
The first documented evidence of an exchange of engagement rings was in Ancient Rome (roughly from 27 BC to 1400 AD). The trend where these rings were initially represented a statement of social hierarchy later evolved into an exchange in the form of betrothal rings. These rings were mostly made of copper and iron with the exception of some that were made of ivory and bone instead. It was here that a unique trend of "home" and "travel" rings started, too. Usually, the ring worn while at home was made of iron and, as the name suggests, used at home. The iron ring was replaced by a gold ring when venturing in public as a display of affluence and status. Women from the upper echelons adorned more elaborate and ornate rings with wider gold bands and unpolished precious or semi-precious stones.
Back in the day, a ring was considered a sign of "owning" your partner. Later in time, however, these rings stopped being recognized as a symbol of obedience and began to represent an engagement or intent to marry instead. Around this time, a declaration by Pope Nicholas 1 ushered in the trend of having these rings made of gold. Post the Roman era came a significant period when the Visigoths carried forward the ritual of exchanging rings. Their engagement rings were ornate and had motifs similar to the Cathedral setting that is popular to this day. These rings also had intricate engravings and complex details.
Consequently, engagement rings saw many shifts through the times and were adapted and molded by various cultures and religions across the globe. With significant design changes based on artistic sensibilities of the time and geographical relevance, gold and diamond remained the most popular mainstays in this realm.
Recent Evolution of Engagement Rings
From 1900s to 1920s – During this time, it was observed that engagement rings often had an Edwardian style. These rings were intricate, detailed, and rich, oftentimes with a big diamond at the center. To accent this big rock, many smaller glittering gems were set on the band, or surrounding the center stone, thus leading to elaborate, ornate jewelry resembling the pave settings we see today. The most popular stone in this era was undoubtedly the European cut diamond. Closer to 1920s, a significant shift inspired by the art deco era was observed and bold colors gained popularity.
1920s to 1940s – The latter part of the 1920s had a lot of angular cuts and lines. Bolder-colored gemstones were used in engagement rings because of a rich jazz influence. As we approached the 40s, ring makers and jewelers also explored a few cheaper designs with inexpensive materials on the band of the ring.
1940s to 1960s – These decades saw ultra-glamourous solitaires and cushion-cut stones. Towards the end of this period, emerald-cut stones were used widely while designer engagement rings and luxury engagement rings.
1960s to 1980s – This period saw an increase in the demand for geometrical and angular rings. These rings were not as ornate and intricate as the rings before them, but the use of big center stones (primarily diamonds) saw a big uptake in the market.
1980s to 2000s – This was the day and age of H-town celebrities making grand gestures for their partners and the common man looked up to and aspired to buy highly fashionable luxury engagement rings, pave engagement rings and pave halo engagement rings – replicating their favorite stars' actions. With the central diamond exceeding 4-5 carats in most cases, smaller diamonds and stones adorned it in typical pave and halo settings. While we saw gold bands in previous eras, metals like platinum and stones like sapphire, emerald and rubies reached the peak of their popularity in both minimal and exuberant styles during this It is safe to say that pave and halo engagement rings ruled the roost in these times and continue to do so even in the new millennium.
The history of engagement rings is interesting, is it not?
If you are on the lookout for a stunning and trending ring for yourself or your partner, look no further. A.JAFFE is the go-to destination for superior diamond engagement rings. Our delicate pavé set rings have small diamonds set along the shank of the band to create a stunning look. At A.JAFFE, our micro-pavé diamonds are not only hand set in each setting, but each prong is also hand crafted individually into the metal so your setting is more secure, durable, and smooth. Visit us online to explore our extensive selection of classic, traditional, and modern luxury engagement rings!