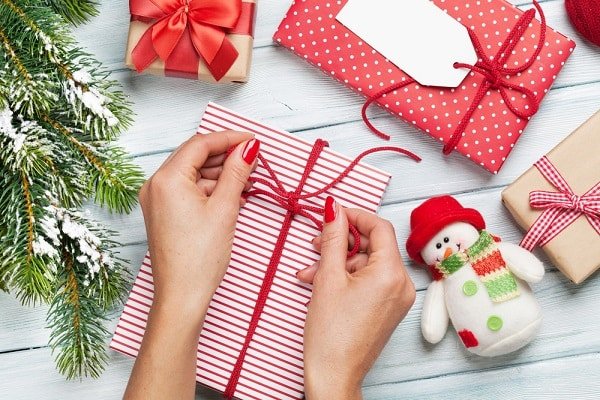 When you only see someone in a work setting, it can be difficult to know what gift to get them for Christmas. Similarly, when it comes to a randomized Secret Santa draw, you might find that you've drawn the name of someone you've barely said two words to. As a result, you'll understandably be left scratching your head when it comes to hunting for a gift. Since it's a professional setting, it's likely that you don't want to be too adventurous, yet you also don't want your gift to seem thoughtless or boring. It's certainly no easy feat, but how do you tread the balance between the two?
Wine Bottle Gift Box
Typically speaking, you can't go wrong with a wine gift, as wine just radiates celebration. In anticipation for Christmas, wine and spirit packaging often takes a festive turn, ready to be presented as a gift. Whether you opt for red, white, rosé, or bubbly, it's sure to be the perfect gift for someone. Bubbly is the most suited for celebration, yet red is incredibly classy and can even be transformed into mulled wine! Despite this, red is an acquired taste, and white and rosé tend to be crowd-pleasers. This is particularly true of people who enjoy a sweet tipple as they're able to make a spritzer with either white or rosé by adding lemonade or soda.
Loose Leaf Tea
Everyone loves tea, especially when it's cold outside and you need something to warm you. Though tea bags are handy, there's something quite special and authentic about a loose leaf tea. Tea is a great gift to show someone that you care due to its antioxidant qualities. Ginger tea is the perfect gift for this time of year as it soothes sore throats; something that's aplenty during the winter season. On the other hand, you can present black tea for cognitive function, peppermint tea to aid anxiety and stress, and matcha green tea to relieve vitamin deficiency.
Stainless Steel Water Bottle
Though this may seem simple, it's actually a very thoughtful gift that encourages hydration whilst simultaneously aiding the planet. Plastic bottles, whether they be single-use or not, cause harm to the ecosystem and can become unsanitary after excessive use. In addition to this, stainless steel water bottles are among the most durable and allow you to drink water at your desired temperature due to the insulating quality of steel. You can find these in a range of colors and may even customize your chosen bottle with your recipient's name for that added personal touch.
Gift Card
If you're really stuck on what to get someone, a gift card is a great solution. These allow your recipient to select what they want from your chosen store, meaning that they'll be able to get their hands on something they really want. Gift cards relieve a lot of stress for both parties; the gift giver won't have to fret about what to gift the recipient, whereas the recipient won't have to worry that they won't like the gift. Gift cards allow for all-around satisfaction and are perfect for those colleagues that you don't know too well.
Coloring Book
Typically speaking, the office can be a stressful environment, meaning that you'll often encounter your co-workers at the height of their stress levels. One of the best ways to relieve stress is through coloring, allowing someone to release their inner child and be themselves. When on a break at work, your recipient could pull out your gift to blow off some steam and get coloring so that they're ready for the afternoon ahead.