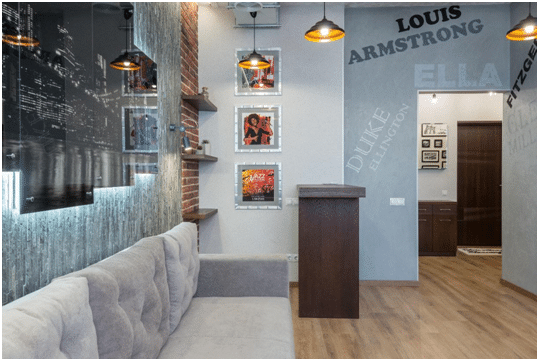 Decorating homes is a challenging task. The greatest emphasis in interior décor is on the sofas, coffee tables, and the placement of appliances in an order that they don't mess things up, and so on.
However, you may overlook walls. Most people consider painting them as sufficient. However, bare just painted walls appear bland and have an ill effect on the entire décor.
There are numerous options for decorating walls to look fantastic and add much more to the overall décor. We'll discuss some of those options in the following lines.
1. Paintings
Paintings are a great way to ensure your walls are not bland. Paintings come in all colors and sizes, and you can pick anything that you like. They can be pretty pricey, so it's a good idea to get artwork from lesser-known artists.
If you have lighter-colored walls, abstract art looks fantastic. You can also try different-sized paintings. Whether you have a large painting in the middle of the wall, or several small paintings spread across the wall, it can be a difficult task. However, an expert like Professional Picture Hanging Melbourne, can help you out and make your wall look excellent.
2. Canvas Prints
Canvas prints are an outstanding option for decorating your walls. They have many benefits and there are endless ideas that you can incorporate with the canvas prints. Nothing is off-limits, from family pictures to snaps of nature's beauty to your favorite funny quote.
Another significant aspect of canvas prints is their different sizes. You can opt for a single canvas or multiple smaller canvases on the wall. You can split a single picture into more than one canvas. They are an excellent option for decorating your walls on a budget with their low price and durability.
3. Mirrors
Mirrors are more of a necessity, but they can also be an essential part of your interior decoration. They're also an excellent option for decorating a wall. It would be best if you experimented a little bit with unusual shapes and designs.
Round mirrors spread across the wall look amazing. You can take an old mirror and make it into a new one with many DIY ideas. A frame made from old CDs, corners with different colored beads, and a mirror surrounded by artificial flowers are some of the ideas you can apply.
4. Murals
Murals are a fun way of decorating your walls. They can also be light on the cost since you can paint a mural yourself. Indulge the entire family for a fun day of painting the wall. Have a plan in place to ensure you get something meaningful.
If you're looking for something very professional, you should hire an artist. Whether you want floral patterns or contemporary designs, they can be done. The cost is generally associated with the delicacy and intricacy of the work.
5. Books
Books are a fantastic source of knowledge and can be a helpful element in your interior décor at the same time. You can have some books on a shelf on your wall. A honeycomb-shaped bookshelf containing some classics will do the trick. Even some not-so-classical books will do just fine.
6. Lights
Lights play an essential role in interior decor. Intelligent use of lighting helps glow up the walls of the room. Lights' primary role in the decor is to brighten the room and the walls so that every element in the décor is clear.
Lights also have their effect. Warm lights add so much to the ambiance. You can also have some of the trendy lamps to add to the decor of the wall. A bit of experimentation with different colored lights, too, leaves its mark.
7. Plants
You can have different kinds of plants on your walls. The most common idea is to have them sitting on shelves in small pots. They look great, and one can mix and match different kinds of plants to get the desired outcome. You can also use glass vases to add to their charm.
You can opt for hanging plants that may be placed in homemade wooden frames or tied to another fixture on the wall or displaying Milla Rose dried flower bouquet to add a rustic look. Moss walls are also an option. You can get both live and dead moss.
Adding colorful flowers increases the plants' charm and adds so much to the overall décor for very little damage to the pocket.
8. Plates
Hanging plates from the wall is nothing new. It is a highly effective way of ensuring that the walls don't appear bare. You can take a white plate and paint it yourself. Whether you like something on the lines of abstract art, color patterns, or a little bit of calligraphy, it's totally up to you.
There are also plates commercially available as decoration pieces. You can buy ones with prints or have something printed on them. Even antique plates are available, but they are usually pretty expensive.
9. Textured Paints
It is a bold move to have textured walls inside the house. It mainly works well if the room is large and only one of the walls is painted. Generally darker shades are preferred as it gives a regal look. All the supplies needed are available at hardware stores, and you can do it yourself.
Make sure you ponder over it since you don't want to be stuck with a color on your wall that you do not like after a couple of weeks. You can even put samples on the wall before making the call to be sure.
The Bottom Line
To have the perfect décor, you cannot ignore the walls. Bare and bland walls kill the buzz of the whole place.
There are so many ideas that you can apply and make your home walls look amazing. All you need to do is bring out your creative side and stay open to different ideas. You will find the perfect solution.