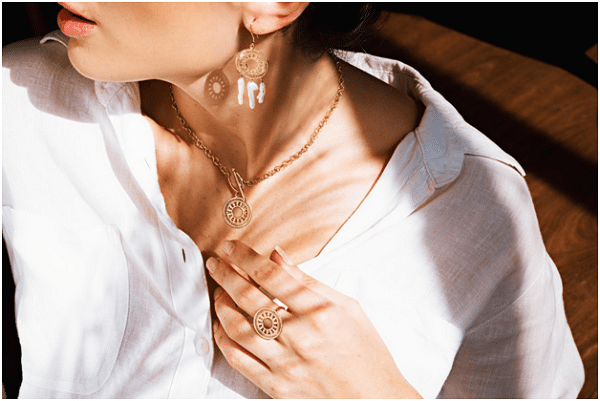 We may think about matching our jewelry to our clothing, but making sure it complements skin tone is just as important when it comes to pulling off the look we're aiming for successfully.
Ensuring that your jewelry matches your skin tone can add instant glow to your complexion, make your eyes sparkle and boost the look of the bling itself, as well as enhancing your overall ensemble. Use the tips below to get it right every time!
Identify Your Skin Tone
To get started, you need first to identify your skin tone. Skin color and skin tone are different animals: your skin color (its overtone) is the surface level of your skin and can be affected by environmental factors, such as burning in strong sunlight. The undertone of your skin, however, will always remain the same and is determined by factors such as levels of pigmentation and melanin present. So, when you hear the words 'skin tone',' it is usually 'skin undertone' that is being referred to. 
Right, now that that distinction is out of the way, how do you know which skin (under) tone you possess? The three main skin tones are cool, neutral, and warm. Those with cool skin tones tend to burn in strong sunlight and don't tan.
Skin that doesn't burn but deepens in color in the warmer months is usually neutral or warm in tone. Another way to determine tone is to take a look at the veins on the inside of your wrist. Those with cool skin tones tend to have veins that appear blue or purplish, whereas greenish-colored veins are normally seen in warmer skin tones.
Choosing Metals
Different hued metals will complement the different skin tones. For cooler skin tones, choose white gold, silver, and platinum jewelry to bring out the delicate shades of your complexion. Yellow gold pieces – such as the elegant name necklaces found at https://www.onecklace.com/gold-name-necklaces/ – look stunning worn against warmer skin tones, as does rose gold or copper-toned jewelry, which can enhance the glowing honey hues of those with this complexion.
Those with neutral skin tones are usually able to wear white, silver, or yellow metals to equally beautiful effect! If in doubt, simply hold up a piece of white or silver jewelry and an item of gold jewelry against your skin and judge the effect to determine which is the best choice for you. You can always ask the salesperson to confirm you made the best choice since you are probably shopping in a jewelry store you trust.
Selecting Gemstones
Choosing the perfect gemstone can add sophisticated sparkle to your look and complement your complexion, too. Topaz, garnet, emerald, ruby, tourmaline, and turquoise look exquisite on cooler skin tones; earth tones and yellows are stunning choices for those with warm skin tones: opt for citrine, agate, peridot, and brown zircon.
Matching Metals With Gemstones
Certain types of metals will look particularly beautiful with specific gemstones. Yellow gold works perfectly with jewels and gemstones that are colored yellow, green, orange, turquoise, and brown. Pair silver and white-colored pieces with richly toned gems in reds, blues, and purples. Rose gold is extremely versatile and can be worn alongside most gemstones and against all skin tones. 
If you'd like to wear pearls, then decide which of the three main shades will look best with your complexion. The traditional white pearl looks beautiful against cool skin tones; folk with this type of skin can generally carry off pink-tinted pearls wonderfully, too. Warm skin tones can also successfully wear white pearls and look fabulous wearing silver-hued pearls, too. 
And needless to say, diamonds look great with everything and worn on all types of skin!
Putting It All Together
So now we've determined what types of metal and color of gemstones most perfectly match the three main skin tones; how to put it all together into a cohesive look? 
If you have a warmer skin tone, try a long, yellow gold pendant style necklace featuring a standout gemstone, like a large imperial topaz, or a copper bracelet set with citrine gems. For cool skin tones, opt for an elegant set of sterling silver bangles and a pair of silver earrings set with sparkling blue sapphires, or a white gold necklace and ruby stud earrings.
Those with neutral skin tones will usually be able to wear a wide range of styles, metals, and gems; you could think about selecting gem colors with a view to bringing out the shade of your eyes. For example, those with brown eyes could choose earrings and necklaces that incorporate garnets or rubies; green eyes can be made to sparkle with emeralds or a peridot pendant, and a matching set of pearls looks perfect next to a pair of blue eyes. 
Experiment with different looks to discover which one works perfectly for your skin tone, and try 'layering' metals: while in the past it wasn't the done thing to wear, for example, yellow gold and silver together, now you're free to mix and match in whichever way you want to.
Use the tips above to put together a beautiful outfit and let your jewelry enhance your natural skin tone's sparkle!