Spring is just around the corner, which means it's time to swap out your dark winter shades for light, airy colors. One of our favorite ways to embrace the new season is by investing in fresh pieces of gemstone jewelry.
There's no better way to refresh your jewelry collection than with some gorgeous gemstones. They are not only beautiful, but their vibrational properties can also help enhance and bring balance to your life. Each stone has a unique energy that can help you harness your own life force, so it's important to choose a stone that resonates with you.
Here are some of our favorite gemstone jewelry ideas for this time of year:
Amethyst Earrings
Amethyst is one of the most popular gemstones in the world, and it's easy to see why—it comes in a beautiful range of colors from pale blue-purple to deep violet, making it perfect for adding a pop of color to any outfit. Plus, this stone is thought to promote relaxation and calmness.
Amethyst is known as February's birthstone, but it's also a perfect option for any month of the year. It is associated with love, passion, and creativity. Amethyst is also believed to have calming properties: it can help you relax, reduce anxiety, and fall asleep faster.
The vivid purple tones of the amethyst stone make it perfect for any occasion: pairing amethyst earrings with a casual outfit will make your look interesting while adding the same earrings to a formal outfit will give it elegance.
You can add this versatile stone to your jewelry collection in various styles: stud earrings have a classic look that can be worn daily; halo earrings are great if you want more of a statement piece, and chandelier earrings provide an elegant touch to your outfit.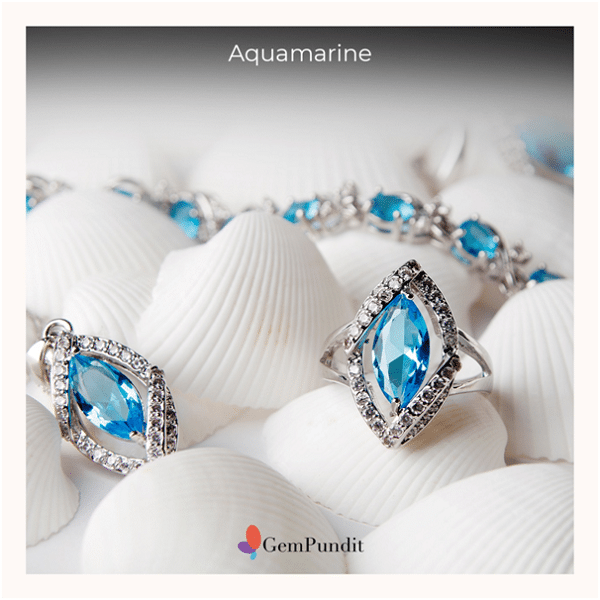 Aquamarine Ring
Aquamarine rings are among the top gemstone jewelry options for a refreshing spring feel. The stone's beauty is unmatched, and its clarity symbolizes youth, hope, and health. Aquamarine is the birthstone for March and its vibrant blue color can be a striking accessory at any time of year. The name "aquamarine" comes from the Latin words aqua, which means "water," and mare, which means "sea." This name was chosen because aquamarine is often a greenish-blue color that resembles seawater.
Aquamarine is a stunningly beautiful stone that offers a delicate blue and green color. Wearing it is guaranteed to bring out your feminine charm and elegance. The gemstone emanates calmness, making it ideal for people who are always on the go and would want to feel at peace even at the busiest times of their lives.
Aquamarine is also known to help clear your thoughts, which will help you focus on what's important in your life right now. It can also help you become more aware of yourself, which will lead you to appreciate yourself more.
The aquamarine ring is one of the most popular rings among women because this stone will make you look elegant and classy. It goes well with any outfit and it is perfect for any occasion. You can even wear it at work or when you are just hanging out with your friends because this ring will help you have an elegant yet casual style without being boring.
Citrine Stud Earrings
Citrine is known as the stone of sunshine and success. It is a golden-orange crystal that represents joy, happiness, and good fortune. This sunny crystal can bring you positive energy to help you stay motivated for your goals. It is also the perfect stone for anyone who wants to attract success in their life.
Citrine can help you manifest any goal through its pure energy vibration. The sunny yellow tone of citrine earrings will instantly brighten up any look this spring, from casual outfits to party dresses.
Choose stones set in pave settings which means they sit flush against your earlobe so there isn't any uncomfortable poking around (or catching!) when wearing them all day long.
Citrines are also known as "healing stones" because of their ability to promote positive energy in people who wear them– and if you're looking to bring some joy into your life this spring season, these studs will help do just that!
Citrine is the stone of light, happiness, and joy. It has a warm, radiant energy that can help to revitalize your soul and bring a sense of positivity to any situation you may encounter.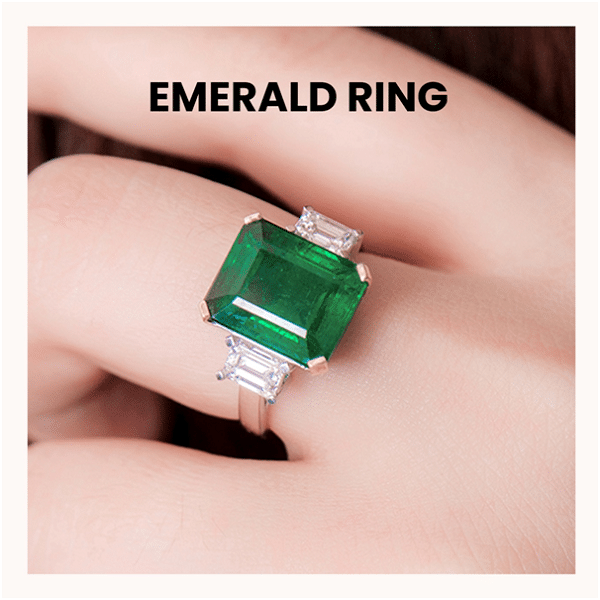 Emerald Rings
Emerald has long been regarded as a stone that brings wisdom, growth, and patience. It is also said to bring love, compassion, and unity to relationships. This stone is believed to be a symbol of rebirth which makes it perfect for the season of new beginnings – spring!
No wonder Emerald rings are one of the best ways to add a refreshing spring feel to your wardrobe. They have a deep green hue that will light up any outfit! The emeralds are made from fine quality material, and they are available in various sizes so you can find one that fits you perfectly! There's nothing better than getting back into shape after wintertime with an emerald ring on your finger!
Aventurine Bracelet
Aventurine bracelets are one of the most popular types of gemstone jewelry that many people love to wear during the spring season. These bracelets usually have a silver band with aventurine stones set on them. The stones have different colors depending on their quality and origin.
This bracelet is all about being in tune with yourself and finding inner peace when you need it most. Aventurine is known as the "Stone of Opportunity" and can help you manifest the life you've always dreamed about. It's also known for its green color, which looks great with your favorite floral dress or skirt.
In conclusion, gemstone jewelry has always been admired for its beauty and high value. They have been used in the past and are still being used for a reason. Each person is unique as any stone's various hues of color. Gemstones also symbolize certain attributes and elements that every person possesses to some degree.
Find out more about the different stones available at a store like GemPundit, and make sure you wear your fashion statement prominently on your hands or wrists.