Are you a couple planning their wedding and wishing to have a unique wedding decoration? Then this article is for you.
One way to make your wedding look beautiful is to have the wedding tables decorated differently.
Your wedding table must not have similar decorations. You can make your wedding look unique by decorating your table with different decorations.
Some people feel that having a unique decoration on each table at their wedding may confuse their guests. This is not true, and this article will prove that.
Think about the unique look the differently decorated tables would add to the event venue. Consider how great the guests would feel to see the tables decorated to appeal to their personality.
Also, you can arrange the table decorations to appeal to the wedding theme. Decorating each of your wedding tables with different ideas will make your wedding unique.
This article is written to help couples and event vendors with ideas to make the wedding tables look beautiful and add a unique look to the wedding venue.
Below are ideas we feel can help couples decorate each of their wedding tables differently. You can also get more information on wedding-related ideas, guides, and products at Nuptio.
7 Ideas On Decorating Each Wedding Table Differently
The following Ideas below will make each of your wedding tables look beautiful. They will also add a unique look to the whole wedding decoration.
(1) Use Different Centerpiece Sizes
Centerpieces are a great way to decorate wedding tables. They make the tables look exclusive, giving the guests a VIP feeling.
To make each wedding table look different and beautiful, use different centerpiece sizes for the various tables.
While doing this, you must, however, ensure that you do not combine centerpiece sizes that would make the tables look disorderly.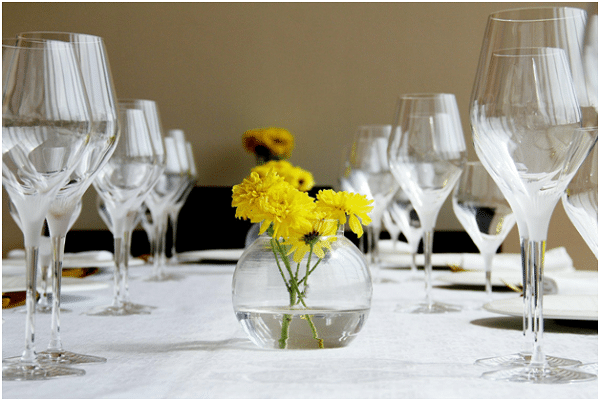 There should not be a massive difference in the sizes of the table's centerpieces. So that it does not spoil the beautiful image we are trying to create.
A beautiful type of centerpiece for wedding tables is Sziqiqi hanging tealight holders.  It comes in different sizes.
(2) Make Use Of Individual Flowers On Each Table
Flowers are great for decorating wedding tables. They add a natural feeling to the wedding environment.
Using different kinds of flowers for each table would make the wedding arrangement beautiful.
Choose a few flowers and decorate each table with individual flowers. Do not Combine two types of flowers in one table. However, ensure a color touch of the wedding theme on all the flowers on the tables.
(3) Adjust Flower Colors for Each Table aways
Another way to make your wedding venue look beautiful is by using different flower colors to decorate each table.
Flowers are very beneficial and serve as great centerpieces for wedding tables. You can use them to create a unique view on the wedding tables by using different colors.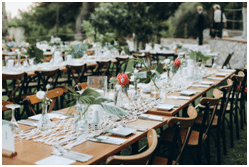 This will make your wedding look colorful and unique. Do not use flower colors that do not blend with the wedding interior decor.
Also, ensure that there is a touch of your wedding colors on each of the flowers on the tables.
(4) Use A Variety of Small Plants
You can use various natural and tropical small plants to give each wedding table a unique look.
Some of the small plants that can serve as good centerpieces are hydrangea, spider plants, pothos,  hibiscus, begonia,  prayer plant, dracaena,  peony, coral bells, philodendron, jade plant, arrowhead vine,  ti plant, monsters, African violet, sword fem, standard box, taro and a host of other natural small plants.
These tiny plants above create a unique natural touch on your wedding tables. This can help to give your guests a refreshing feeling.
(5) Use Different Types of Fall Leaves
Fall leaves are also an excellent idea for decorating wedding tables. To make each table look different, you can use different types of fall leaves.
There are many types of fall leaves that you can use to decorate the various tables.
(6) Variety of Couples Images
Using the couple's different images is a thoughtful way of making each wedding table look different from the others.
To achieve this, you can get as many pictures of the couple as possible and place one image on each table.
For example, a table may carry the pre-wedding image of the couple. Another table may also have the engagement picture of the couple, etc.
(7) Use Different Artifacts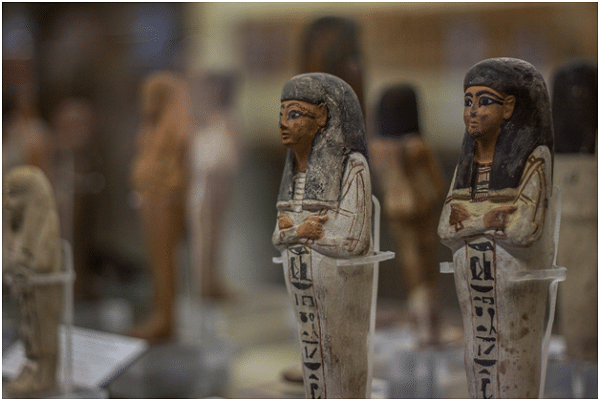 Arts and sculpture are also great ways to make wedding tables look unique and different. You can get as many artifacts as possible and use them as centerpieces on your wedding tables. They not only give the wedding tables a different look, but they also appeal to the artistic sense of your guests.
Summary
It is important to note that as you try to make each wedding table have a different decorative look, you should also ensure that each table has a color touch of the wedding theme. They should also blend naturally with the head table.
Also, ensure that the flower colors you choose for the tables blend naturally with the colors of the bride's bouquet.
You can hire the services of an event decorator and tell them your idea of how you want your tables decorated. Ensure you work closely with vendors to ensure they deliver exactly what you want.
This article has helped suggest ideas to decorate each wedding table differently. Please feel free to revisit this article anytime you want ideas for your wedding table. You can also write your thoughts on decorating each wedding table differently. It could be valuable information for someone.