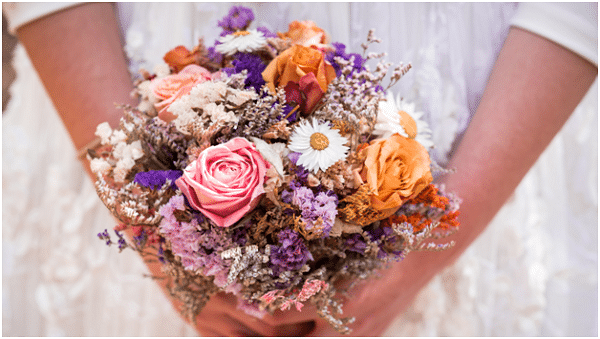 Whenever you picture marriage in your head, flowers always come to mind. There is a plethora of choices available to select the right petal for your wedding bouquet. You should be careful about the selection as the floral arrangement bring elegance and fragrance and leaves an everlasting impression on the minds.
Several options help you to zoom in on your dreamy floral arrangement. It includes your budget, location, venue size, color palette, etc. It often becomes a headache and a half to select the right bloom that helps you to make a splendid statement. If you're confused, you are in safe hands as here I bring 10 Popular Wedding Flowers for a Bridal Bouquet.
10 Popular Wedding Flowers for a Bridal Bouquet
Here is a list of 10 popular wedding flowers that will adore you as a bridal on your big day.
Roses
Whenever you are looking for a floral arrangement, nothing surpasses in symbolizing love, affection, and beauty than roses. Using roses in the bridal flower bouquet opens a vast canvas with tons of varieties worldwide. However, red roses are used for the meaning of love and passion. The white roses help to make a statement of innocence, youthfulness, loyalty, and young love between newlyweds. You can find them around the year as they are grown with regular and tunnel farming.
Ranunculus
The bride in white, holding a ranunculus bouquet, looks stunning. Ranunculus stands out among the others as you can easily mix and match them with roses and peony bouquets. It's a stunning option to fluff up the floral scenery. It also works as a flower centerpiece. However, its delicacy demands a specific environment because nothing can revive them once they start wilting. Best fit for spring season weddings.
Peony
Peony is a part of jaw-dropping bridal bouquet floral options in the spring and summer. Its light shades, i.e., white and cream with pink shades, make a bride adorable. However, numerous colors are there, providing the opportunity to mix and match to glorify the entire scenery. Most florists prefer them because it's easier to shape them in bridal bouquets. Just hold them together and tie them with a ribbon matching the bouquet colors. While using them, never forgets about their big delicate petals, as they can withstand certain temperatures.
Calla Lily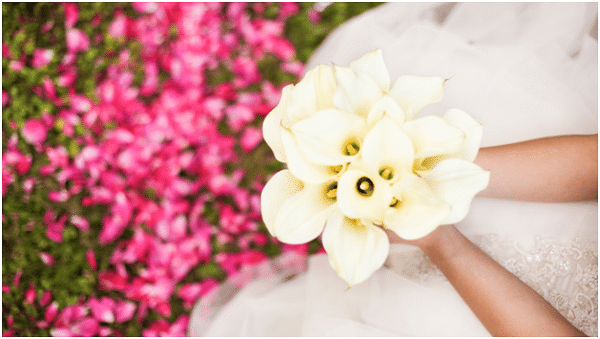 Calla Lily helps to create a simple and stunning bridal bouquet. Its trumpet opening helps it stand out from the rest of its competitors. Moreover, you can make bouquets with ease and fast with them. As these are available in multi-color shades, you can go with your desired color shade that matches your wedding theme. They can withstand harsh conditions as they are hardy. You can make them a part of your wedding from late spring to the summer.
Lily of the Valley
These white buds twinkle like the stars in a bouquet. Using them in wedding bouquets has a great history as they were once part of royal family marriages. Their demure and inviting presence helps to create a statement of simplicity and attraction. You can use them in mono-fleur and as a companion in your bouquet. A variety of colors are there to help you paint your wedding canvas with these flowers. However, this beauty is only available in early to mid-spring.
Anemone
A perfect pick for a modern wedding theme. Usually, black and white flowers are part of the bridal bouquets. These flowers help you to expand your choice, i.e., you can use them as mono-fleur and a mixer with other floral arrangements. Before making them a part of your theme, consider the weather conditions, as they are delicate. However, the winter season is ideal for displaying it in your wedding theme. These dramatic flowers are available from August to May.
Tulip
When it comes to weddings, how can someone forget about tulips? Tulips are simple, stunning, and theme sparkling that you picture in your head. Like many others, they open the opportunity to use them with a variety of color shades and petal arrangements. Using them as a bridal bouquet is always stunning because they are not budget busters. All of its 15,000 varieties are available from December to April. So, don't miss them if you are going to be married in its budding season.
Gardenia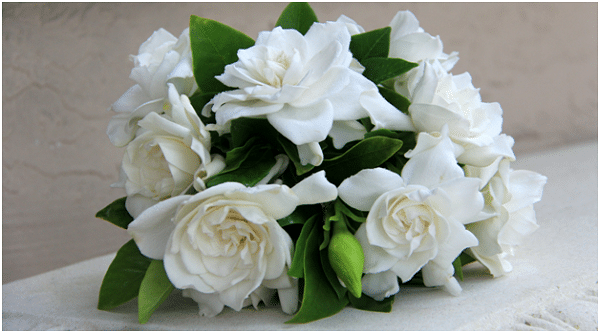 The white will make everything right regarding bridal bouquets. These white flowers paired with waxy green foliage help to showcase a stunning look on your big day. They make a statement of purity, hope, love, and beauty. Moreover, its gorgeous scent refreshes the mind of a newlywed lady around all the time she carries its bouquets. You can pair them with other blooms, but its mono-fleur is unparalleled. These flowers can assist you from spring to fall.
Orchid
Orchids are one of the perfect features to give a tropical touch to your bridal bouquet on your big day. Several shades and types enable you to use the same flora for more than one purpose or floral arrangement. They create a statement of beauty, love, luxury, and refinement. In past days, these were not as common as today due to their tackiness. You can use this economical natural decor all around the year.
Jasmine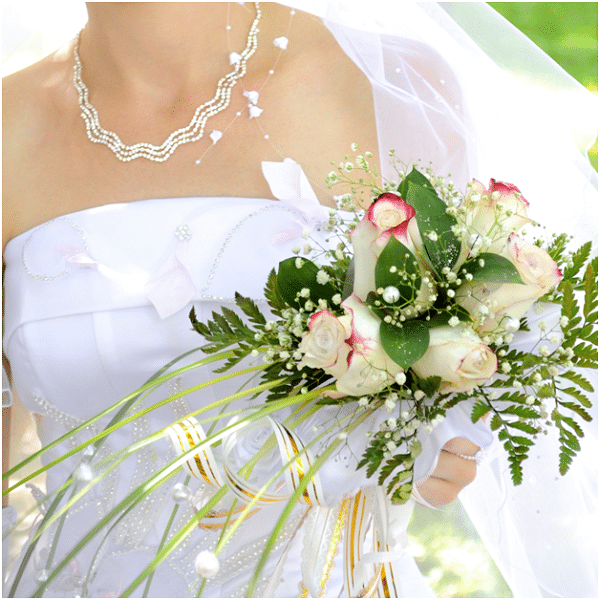 How can you forget about jasmine when you are in search of floral options available for bridal bouquets? Jasmine will add rich and exotic fragrance on the eve of your wedding. It symbolizes purity, innocence, respect, and admiration. If you are married in the evening, it is the perfect time to hold them as they release perfume in the evening. You could be coupled them with other flowers to enhance the aesthetic effect of your bouquets. You can go with it from spring to fall.
Conclusion
Flowers help you to make a statement. The floral arrangements always take time and require big bucks in your wallet. It opens the opportunity to elevate the entire scenery either with flower balls or bridal bouquets. I hope so; these 10 will help you to relax on the eve of your wedding.