Things You Should Know About Jelly Shoes for Women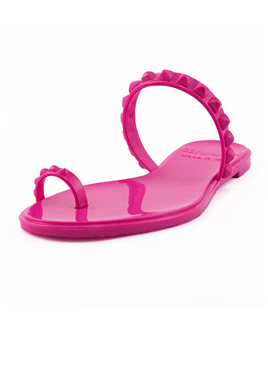 Chic, eco-conscious, and affordable, Carmen Sol is reinventing the jelly as a lifestyle brand.
Designed in New York City and made in Italy, all accessories are made of pure jelly material rose scented. The collection includes shoes, handbags and accessories in 15 vivid colors with eco-friendly packaging.
Since the jelly material is very flexible and thin, it can easily fit into any footwear collection or wardrobe.
Jelly shoes for Women are also known with other names, such as Jelly Sandals, Jellies Shoes, Transparent Shoes, Jelly Flats, Beach Shoes, Jelly Thongs, Aqua Shoes, etc.
Jelly Shoes for Women?
CarmenSol.com jelly shoes for women are made in a combination of vibrant colors and features: Made in Italy, Slide Style, Studded jelly shoe band, molded footbed,
Material: High-Quality Italian Jelly
Sustainable (100% recyclable & prop65 compliant)
Vegan
Includes: Eco-friendly dust bag and box Made in Italy
Nontoxic PVC (Prop 65 compliant)
Slides tend to run small, size up!
For European sizes: 5 US corresponds to 36, 6/37, 7/38, 8/39, 9/40, 10/41, 11/42
Can We Wear Jelly Shoes for Women in any Season?
Jelly shoes are mostly worn during summers or warm seasons. But now It has been observed that people are also wearing Jelly shoes in cooler seasons.
Advantages of Jelly Shoes
There are several benefits to wearing jelly shoes. Some are mentioned below;
Jelly sandals for Women are very easy to put on and take off, making them comfortable for everyday usage.
They can also be worn in the water. They are equally fit to wear in the rain or near a swimming pool. Just allow them to dry at room temperature.
Jelly sandals can be used for a long time without deformation and not have sticky feet!
They can also be washed with mild soap and water, which is especially good for people allergic to shoes.
Final thoughts
I can't go without saying that jelly shoes are unique and special, which is also one of the reasons why they are so popular around the world nowadays.
They are reasonably priced, are easy to wear, and have a variety of designs and colors. For example, you can wear Casual dresses, short skirts, or denim shorts that look perfect with jelly shoes! You can also wear jelly shoes during the day or night.